Sterling Solar Eclipse Jewelry by Asheville Artist Candy Emerson
|
Comments Off

on Sterling Solar Eclipse Jewelry by Asheville Artist Candy Emerson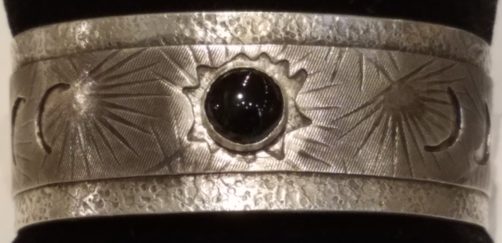 Total Solar Eclipse Day, Monday August 21, 2017
Kind of excited about the solar eclipse? You are not alone – so are we! In fact a few of us are heading out of town to catch the best views since downtown Asheville has only a 99% totality.
That's fancy talk that means we get cheated out of the full deal! But the gallery will be OPEN.
So us die-hards will still be here…suffering and selling this spectacular, one-of-a-kind (once-in-a-lifetime) piece of metal jewelry.
The Total Solar Eclipse Bracelet is made completely from hand-stamped and hand hammered sterling silver by Asheville metal smith Candy Emerson.
Candy has used a beautiful piece of black onyx as setting for the total eclipse and then hand stamped and engraved on the sides the other stages of an eclipse:
Begin of Partial eclipse
Begin of Total eclipse
Totality or the maximum eclipse (the onyx setting)
End of Total eclipse
End of Partial eclipse
If you are excited about chasing after the Great American eclipse, then we invite you to drop by or call us (we expect this piece to go fast).
Don't forget to check out this fabulous bracelet for yourself (or as a great gift idea).
….