National Pie Day – Yum-oh!
|
Comments Off

on National Pie Day – Yum-oh!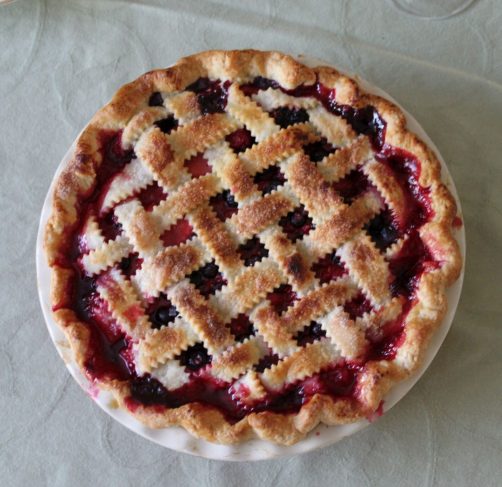 Something about the cold or rainy winter weather always makes you want to hunker down and hibernate…and eat sweets!
Yes, we know winter is the worst time of the year if you are on a diet. After all, many of us are creating (or thinking about creating) some healthier New Year resolutions.
This is why we are delighted to share with you one of our favorite oddball holidays.
Did you know that National Pie Day is on January 23, 2019?
Yes, we said PIE.
And yes, we are tempting you.
Don't worry about 'bulky belly' just yet…
…Imagine, a chilly winter night, and you sitting at the kitchen table, all safe and warm eating deviously delicious fruit pie.
Yum-oh!
So in honor this great (but often overlooked) holiday, we invite you to drop by the gallery on January 23th and check out Barbara Swell's classic pie cookbook "The Lost Art of Pie Making" .
(Sorry, Barbara herself can't be here but we will have her pie cookbooks!)
In this wonderful book, Barbara shows you how to make a darn good pie in a jiffy.
"The Lost Art Of Pie Making Made Easy" is a slender book (just 72 pages) but it sure packs in a lot of information in its pages.
It's a great cookbook dedicated to passing along the pie-making wisdom from all the experienced pie makers Barbara has known, to a new generation of bakers who have an appreciation of made-from-scratch pie recipes like:
Sour Cherry Amaretto,
Dutch Oven Apple Cherry,
Fresh Raspberry,
Lemon Meringue,
Honey Apple Dumplings,
Louisiana Peanut.
Vanilla Crumb,
And dozens more.
You'll feel like you're in your grandma's kitchen, where she teaches you the secrets of her tender, flakey pie crust and shares recipes taken from handwritten 19th century cooking journals.
….
And if you want, check to see if we still have some of Cathey Chet's popular ceramic Pie-for-Two baking dishes available.
So don't forget to come by the Mountain Made gallery during National Pie Day (or any time you want really) and check out our selection of local cookbooks and ceramic baking dishes.