Local Gallery Owner Co-Authors Innovative Cookbook, 'Rapturous Ramp Recipes'
|
Comments Off

on Local Gallery Owner Co-Authors Innovative Cookbook, 'Rapturous Ramp Recipes'
In their newly published digital cookbook – Rapturous Ramp Recipes, the publishers of RampItUpCooking.com (Mountain Made gallery owner Melinda Knies and online writer Chancer Reese) have created an innovative new genre using dried Ramp Seasonings and spice blends that bridges the gap between Southern Appalachian and modern cuisine — creating dishes that rich in flavor and heritage but with a wide appeal.
According to RampItUpCooking.com co-owner and cookbook publisher Melinda Knies,"People often develop very strong feelings about ramps. Anyone who might have stumbled across this tasty vegetable at a fresh food market or at a spring ramp festival – they either love'em or hat'em! This goes double for people who grew up around ramps!"
"So when we decided to work with the family farmers and wild food forgers at the Smoky Mountain Native Plant Association, we learned very quickly that some people have a local prejudice against ramps. Too many chefs and cooking enthusiasts think of ramp recipes as being 'poor folk's food' or being 'too stinky'. Ramps simply don't get the culinary respect they deserve."
"Which is why we wrote this cookbook. 'Rapturous Ramp Recipes' showcases ramps in various dishes that prove they can work in any type of dining experience. Our little cookbook has 11 fantastic ramp recipes – all using our specialty dried Ramp Seasonings and spice blends."
"We are proud to be the very first company in the area to market these wonderful dried ramp seasonings and products, We see a bright future ahead with our Western North Carolina ramp spices as more and more cooks and chefs learn about these wonderfully pungent vegetables."
"This cookbook provides the perfect opportunity for those who have been previously hesitant to try cooking with ramps or using ramps in food," said Chancer Reese, who co-authored the book with Knies.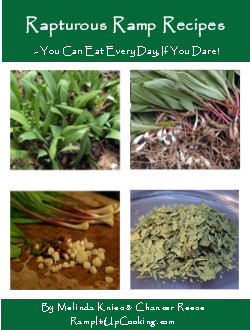 "Our cookbook is very down home yet highlights dishes that can be served at any special occasion – our guests often don't even realize they are eating a dish that has ramp flakes or seasonings in it. But they all rave about how the dish has an unique and unexpected taste – 'full of earthy garlic and wild leek flavors' as one woman said."
Recognizing the innovation behind these seasonings and spice blends, several local chefs are considering implementing several recipes into their menus. Recipes include Savory Salmon Pate with Ramp Spices, Ramped Up Cheese & Olive Hors D'oeuvres and Zesty Cocktail Meatballs. The cookbook is available as a free download at http://rampitupcooking.com/free-ramp-recipes/ .
For more information about ramp spices & seasonings visit http://rampitupcooking.com.