Handmade Glass Ornaments & Wine Goblets by Glassblower Jason Probstien
|
Comments Off

on Handmade Glass Ornaments & Wine Goblets by Glassblower Jason Probstien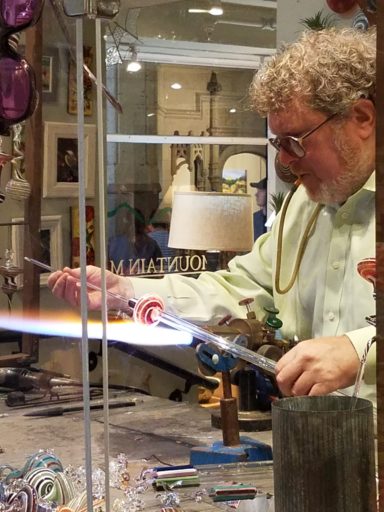 Glassblower Jason Probstein will be showcasing his awesome Scientific Glassblowing techniques during a series of live holiday demonstrations hosted by Mountain Made from now until Dec 23, 2019.
….
Mountain Made has been hosting holiday glass blowing demos by Jason for several years now. In fact many families have made special trips into town to view him at work and collect "this year's new ornament".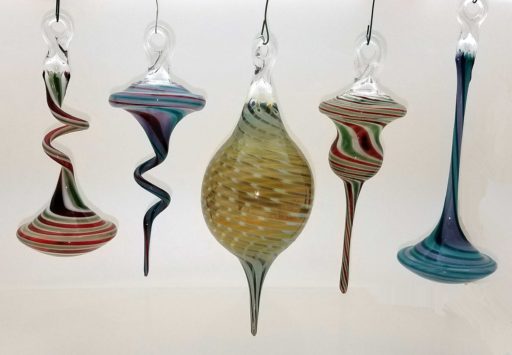 So naturally we are proud to welcome Jason back again for this year…check out our event schedule to learn more.
Jason is a lampworker (master scientific glassblower) living right here in Asheville, North Carolina. Jason received a degree in scientific glassblowing from Salem Community College and has studied Venetian glass techniques at the Penland School of Crafts.
He has performed residency glassblowing demonstrations at Walt Disney World, The Biltmore House and Gardens and downtown here at the Mountain Made Gallery.
Jason works glass tubing and rod with a torch to first heat and then shape his pieces. He uses Corning Pyrex, a strong and very durable glass art piece.
Fuming his wine glasses and champagne flutes with silver and gold makes them change color as the glass goes from full to empty. His most popular glass art pieces are his lightweight, yet durable hand blown holiday tree ornaments. Each ornament is unique in shape and color pattern.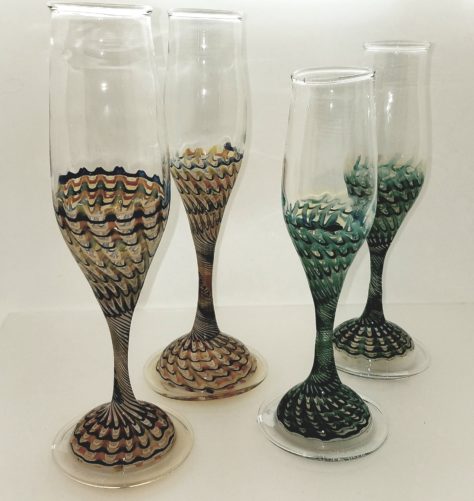 While in Israel, Jason went to the National Museum and was inspired by ancient traditional glass works. There he saw glass pieces in many different shapes and sizes that inspired him. Once back in his studio here in North Carolina, he incorporated these beautiful ancient design elements into his own functional art.
 ….
Check out these videos below of Jason blowing glass…
Jason showing off – blowing glass in his Santa suit – not to be repeated, EVER!
…

…
Jason during one his first glassblowing demo at Mountain Made
…