Handblown Glass Goblets – Perfect for your next "Whine" & Cheese Fest
|
Comments Off

on Handblown Glass Goblets – Perfect for your next "Whine" & Cheese Fest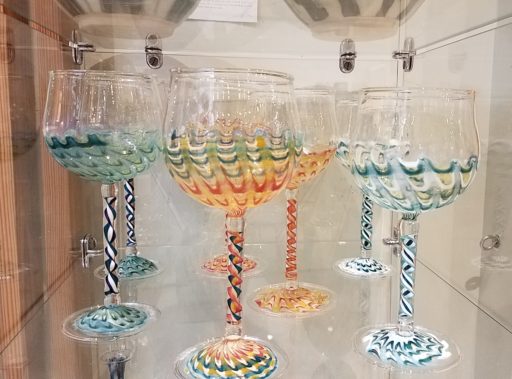 Blown Glass Goblets by Jason Probstein
Did you know that today (July 3, 2020) we are officially done with the first half of the year! Yes, it been a a very bumpy ride hasn't it? So this weekend would be a great time to break out a nice bottle of your favorite wine, get some cheese and crackers and just WHINE (let it all out) about the past six months.
But despite all the horrible ups and downs, there are still some shining lights inside the tunnel. One such light is a special order of hand-blown goblets we just got in from master Scientific Glassblower Jason Probstein.
As you might know, Jason was * finally * inducted into the Southern Highlands Craft Guild last year. Talk about your Susan Lucci!  But before he could properly celebrate his hard won success, COVID 19 came along and put a wrinkle in his schedule.
Now this is where the happy part for YOU comes in. Jason has created a limited collection (only 7 pieces) of his signature handcrafted glass goblets … exclusively for our Mountain Made customers.
You see a few years back, Jason "swore" that he wasn't doing glass goblets anymore but this year we begged, we pleaded…okay we just asked him nicely and he took time during the lockdown to create this wonderfully fun and colorful glassware collection.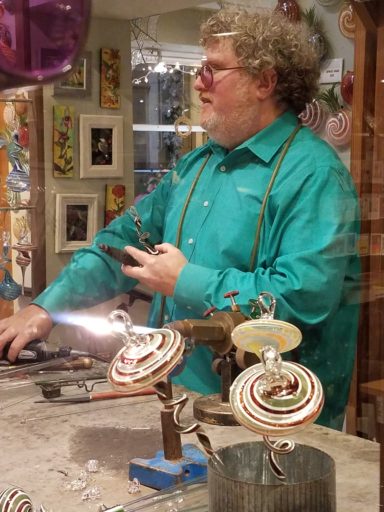 Each goblet is created from ONE single tube of colored PYREX™ glass.  Jason is a highly skilled artisan who can form these glass tubes into numerous shapes and colors such as Christmas ornaments, air plant holders and of course the goblets above.
We invite you to come by Mountain made to check out these great looking yet completely functional glass goblets for yourself.