Cherokee Leaf Pounding – Art Quilts by Asheville Artist Bonnie Lucas
Live Art Demo – Saturday 8/17/2019
11:00 AM – 4:00 PM

Quilts made from Pounding Leaves & Flowers?
Among our Mountain Made artists, Bonnie Lucas is one of our better known master quilters.
In 2014, Bonnie was selected as a semifinalist among 405 other contestants in the American Quilter's Society QuiltWeek. The American Quilter's Society's quilter's contest is now in its 31th year. Cherokee leaf pounding quilting is her of her specialties.
While Bonnie uses many different techniques in her quilted pieces, one of her most popular quilting techniques found here at Mountain Made, starts with a technique Bonnie calls "Cherokee Leaf Pounding".
Leaf pounding, also known as "plant pounding or hammered prints" is a seemly simple, yet stunningly beautiful technique originally used by Native American Cherokee women to decorate and dye their fabrics using flowers.
….

As the Cherokees before her, Bonnie uses actual flowers, leaves, and even weeds in her works! The colors and veining in the resulting quilt pieces are actual pigments and dyes from the plants or leaves themselves.
Each in her unique quilts also has designs picked out using a machine-thread technique. It is applied over the border of the plant outline for a more rustic and organic texture.
….
We invite you come by and see Bonnie create her quilts during one of our live art demo on Saturday here at Mountain Made and check out her Leaf Pounding Quilts for yourself.
Inside the Artist's Studio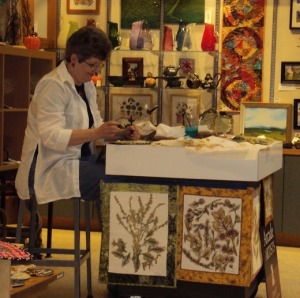 Mountain Made gallery is happy to share her thoughts and artistic viewpoints as part of our continuing series "Inside the Artist's Studio."
….