Wood-Fired Pottery by Ronald P. Knight
|
Comments Off

on Wood-Fired Pottery by Ronald P. Knight

It's no secret that in the modern pottery world today, few working potters are using wood as their fuel of choice for firing pottery. Working with a wood-fired kiln is physically demanding, requires a large natural resource supply and takes a great deal of time.
This is why Mountain Made is pleased to announce the addition of pottery created by clay artist Ronald P. Knight, to its existing line up of potters. While Ronald fires in more standard oxidation kilns he specializes in producing wood-fired pottery.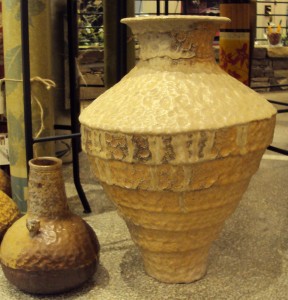 The process of wood firing is very labor intensive since it requires preparing the wood pile well as maintaining and firing the kiln during the complete 4 to 5 day firing session. Each firing session burns a minimum of four cords of wood, and takes up to 10 days to cool!
During his successful career, Ronald has built eleven high-fire and two anagama kilns. The anagama is an ancient Japanese style kiln ("brought to Japan from China via Korea in the 5th century") that achieves intense heat up to 2500 degrees Fahrenheit.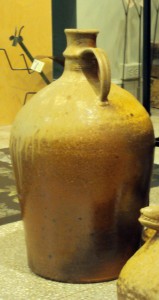 Due to the airflows that circulate the ash and flame, one of the most unique features of wood-fired pottery is that no single piece is ever exactly the same. This one-of-a-kind natural beauty is influenced by many different factors, one of which is the piece's location inside the kiln.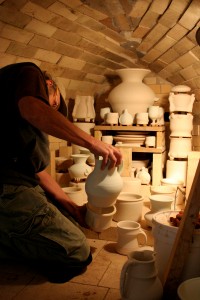 All the surface markings on a piece are ultimately determined by how and where it was stacked in the kiln. These kiln placements determine the amount of wood ash that falls on each individual piece and the amount of flame it is exposed to during the firing process.
This remarkable wood ash glaze is very apparent on the sides of the clay pieces that were facing the fire. This means each piece is distinctively and uniquely marked. And since a typical firing lasts 4-5 days this wonderful ash process is reproduced continuously during the firing process.
Ronald's pottery reflects his love of both Eastern and Western influences.   Some of his contemporary mentors have been such well-known clay artists as Dan Edler, Carl Judson, Warren McKenzie, Rob Barnard, Wayne Ferguson, Paulus Berenshon, and Mike Imes.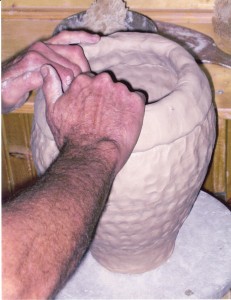 Ronald says, "The organic forms I create often resemble human anatomy and the natural world so rife with inspiration. I lean toward designing hand-sculpted pieces, preferring the organic process of molding formless lumps of clay into soft bulbous shapes, such as seedpods."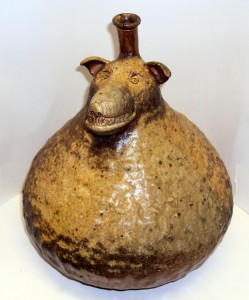 Be sure to see Ronald's latest effigy jars, which blend pre-Columbian design and mountain folk artistry into unique creations now available at Mountain Made. Ronald also creates functional pottery for everyday use. Several of his wonderful coffee mugs and cups are also on display in the gallery.