What's New at Mountain Made Art Gallery
|
Comments Off

on What's New at Mountain Made Art Gallery
We'll come clean. Some of the artists aren't exactly new (they have been around for a bit). However, we are updating our website so once we gathered all the information from our artists, we just couldn't wait to share their beautiful work with you!
New North Carolina Artists on Our Gallery Website
Catalina DiBiase, Weaver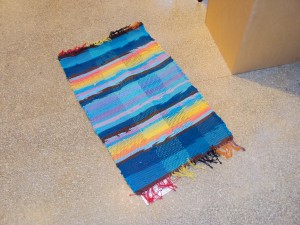 Beautifully woven rugs made from recycled cloth in refreshing multi-color stripes, Easy care and durable. Machine wash in cold/warm water and line dry for best results.
Laurel Gordon, Painter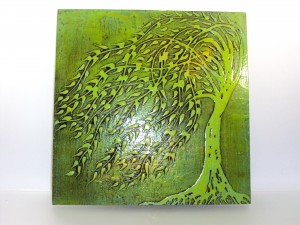 Laurel Gordon is a self-taught artist. Growing up art and music were her greatest form of self expression. After years of experimentation, she has discovered a technique of layering translucent textures and colors to create something that is touchable and truly unique. Laurel's innovative style blends nature with abstract expressionism.
 Karyn Gould, Clay Sculptor
Karyn is doing very interesting work in polymer clay and glass. She has created some colorful glass ornaments that are embellished with polymer clay 'mountain landscapes' along with recycled glass bottles that she has turned into beautiful hanging outdoor lanterns with polymer clay 'nature' designs.
 Erin Keane, Mixed Media Artist & Book Binder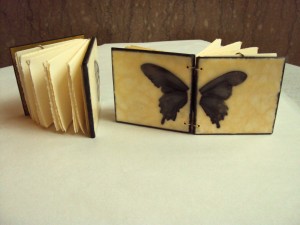 Erin creates beautiful hand-bound books, life journals and Star Origami Book/Ornaments , frequently using butterflies cut from decorative papers from around the world and real butterfly wings preserved in encaustic. All of her works are finished in hand-stitched Coptic binding pairs with a distinctive Butterfly Stitch.
Edwin Knies, Metal Artist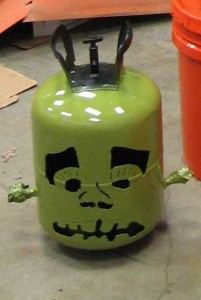 Edwin has been creating artworks most of his life. He admits since graduating from the University of Evansville in Indiana with degrees in communications and fine arts that there are few mediums he has not tried from photography, clay, mixed media but feels he expresses his gift best in metalwork.
David Lamoureaux, Author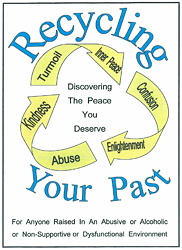 Life coach and author David Lamoureaux; has assisted thousands of people with their quest for reemployment, career development and personal growth over the past 20 years. His book "Recycling Your Past" is written for anyone raised in an abusive or alcoholic or non-supportive or dysfunctional environment. The book is for those who want a second chance to make some sense out of the confusion and pain suffered during childhood and find the peace they deserve.
Treska Lindsey, Author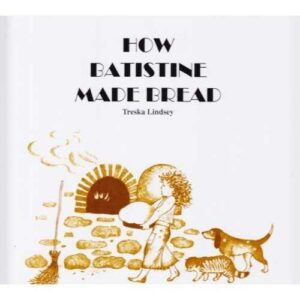 Treska Gevaert was born in 1924 in Sint Martens Latem, Belgium, the seventh of eleven children During the Nazi invasion they fled their home towards the Pyrenee region of France where they survived as lumberjacks and farmhands. Postwar Treska married Bob Lindsey and they settled in the mountains of NC. There they built their home from field stones and raised their four children. In 1985 she started writing wonderful children's books such as "How Batistine Made Bread" drawing from her life experiences.
Mary E. Mason, Potter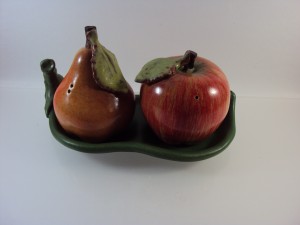 Mary is a well-known clay artist in North Carolina. Mary's artwork reflects her love and respect for nature, that developed while growing up on a farm and is constantly nurtured by her ongoing life in the mountains of western North Carolina.
Karen Odgers, Jewelry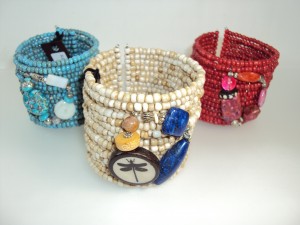 Karen's beaded bracelets have quickly become popular with our customers. Karen says, "I Love my job!! I find new creativity with each day. I started this business in the worst of economic times but am thriving and growing with each day forward."
 Robert Pike, Copper Artist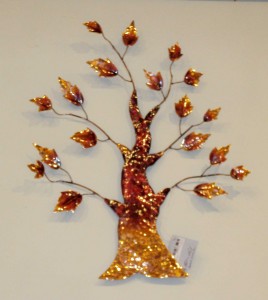 Robert specializes in hammered copper wall art and designs. Each piece is handcrafted and finished to capture the golden warmth and burnished color of copper for many years to come. He also creates a signature line of copper leaf jewelry. Each jewelry piece is created from real "leaves" collected during hikes in our beautiful WNC mountains.
Jerald Pope, Author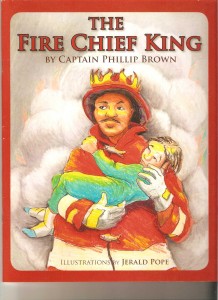 A writer and illustrator of wonderful children's books, Jerald Pope lives in the small community of Swannanoa with his wife Rebecca, and their dog, Rusty. Jerald says, "Through the cold, snuggle-down days of winter – you and a child and a memorable book will build memories that will outlast any electronic event."
 Jack Pyle, Author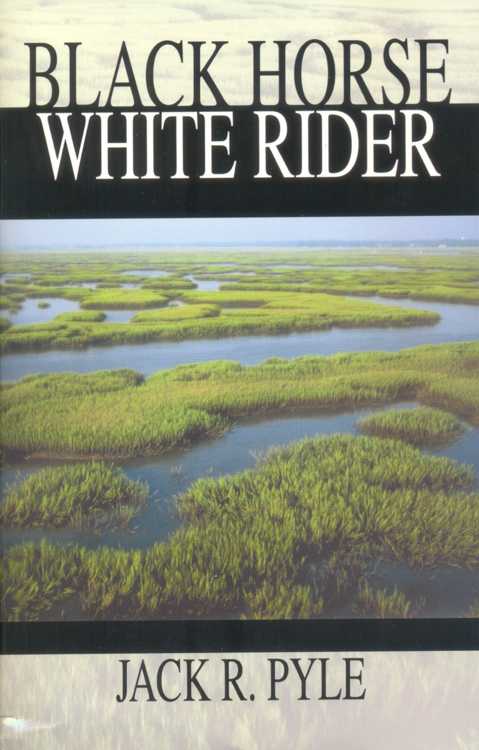 Jack Pyle was born in the Appalachia of southeastern Ohio, reared in the South, and in love with the mountains. Jack brings a new perspective to Southern novels. His books stretch from the folklore of the "moon signs." To the piney flats of Florida, to the majesty of the Blue Ridge Mountains. Don't expect his books to be alike. He is a storyteller, as his grandfather was, so his tales are reality fabricated from the whole cloth.
 Taylor Reese, Author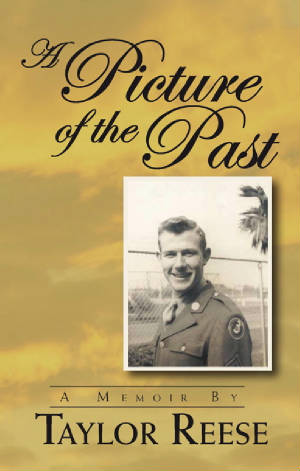 Taylor Reese grew up on a farm in Bertie County, NC. He has chopped tobacco, looped it and cured it; he has sold Clovertine Salve; he has taken piano lessons at fifty cents a week; he has experienced life on a farm when there was no tractor and farm life was uncomplicated, when a man's word was his bond; and when prayer in school held no controversy. His books are pulled from life experience.
 Jennifer Salak, Jewelry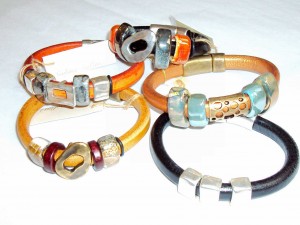 Jennifer is a jewelry and mixed media artist, originally from upstate New York, now living North Carolina. For the past two years she has combined her love of ceramic beads and metal into creating beautiful leather bracelets. These elements all come together in perfect union and stand out in one-of-a-kind bracelets; all have magnetic closures.
 Georganna Spruce, Author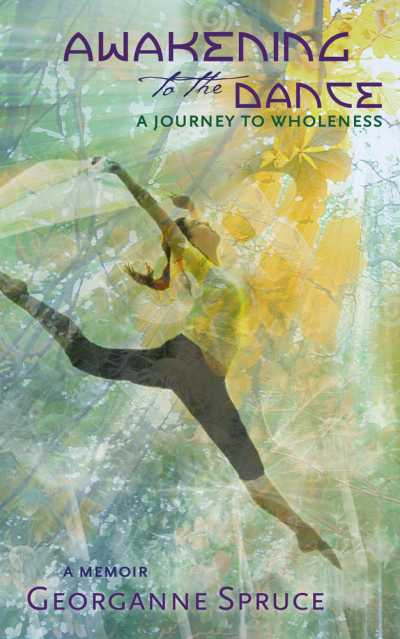 In her memoir "Awakening to the Dance", Georganna Spruce, shares her journey to find an authentic identity, creative expression, and a meaningful spiritual life. She says, "Dance is the metaphor I use for our spiritual journey through life, for it has always been at the center of who I am."
 Kaaren Stoner, Potter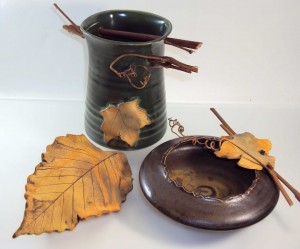 Through 41 years of clay work – thrown and hand-built; high-fire porcelain and stoneware; Kaaren has been inspired by nature and an endless fascination with the beauty of leaves, grasses, flowers, trees, rocks and landscapes. Her pieces often seem to form themselves and are a spiritual, meditative act for her. Her pieces are both functional and decorative.
Well there you have it. If you have seen something of interest, you invite you come by the store and check out these artists and writer's work in person. Click here > Mountain Made Art Gallery Directions