Wall Mirrors – Using Decorative Handmade Wall Mirrors in Your Interior Design
|
Comments Off

on Wall Mirrors – Using Decorative Handmade Wall Mirrors in Your Interior Design
In our homes we have the freedom to create our own environment with our own ideas and uniqueness, and using mirrors in home decorating is one way to express this personality.
We define ourselves in our homes by such things as light, light reflection, and color; and framed mirrors can express not only this, but also our represented style of decorating.  A well placed mirror can make a statement in any room.
By using wall mirrors we can combine styles successfully and quietly by adding differing styles to our decor.  This can be done by adding a handsome round contemporary mirror in home decorating to a traditional living room or dining room.    You can use the shapeliness and undulation of a freeform mirror to add relief to a very linear, architectural foyer or Italian kitchen.
A large 4 foot x 6 foot mirror, framed with leather or other natural materials, can lean against the wall in the living room to make the room seem larger.  That same mirror, framed in old barn wood, can lean against the dining room wall to reflect the flickering rustic chandelier glow.
Sometimes we are lucky enough to inherit old antique mirrors from our ancestors.  If you are one of these lucky people, pull these pieces from the attic or basement and use them just as they are.
Be proud of your antique heritage!  If you don't have antique mirrors in your attic, prowl the antique malls and antique stores in your town for some lovely older finds.
You can use wall mirrors to bring a feeling of natural beauty and nature into your home by using  a hand-made twig wall mirror or one with a frame of oxidizing copper. Check out the details of this mirror frame by metal artist and longtime framer Jesse Lee.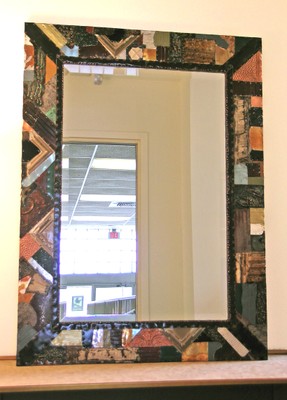 What a terrific conversation starter either of these wall mirrors would be with your next dinner guests if one were hung in your dining room!  Using a painted or colorful framed mirror can be fun and playful in your home decorating.
Colored or painted frames in vibrant and multiple colors such as the ones created by local fused glass artist Alberta Blazina can work wonders in a room which needs a little color nudge!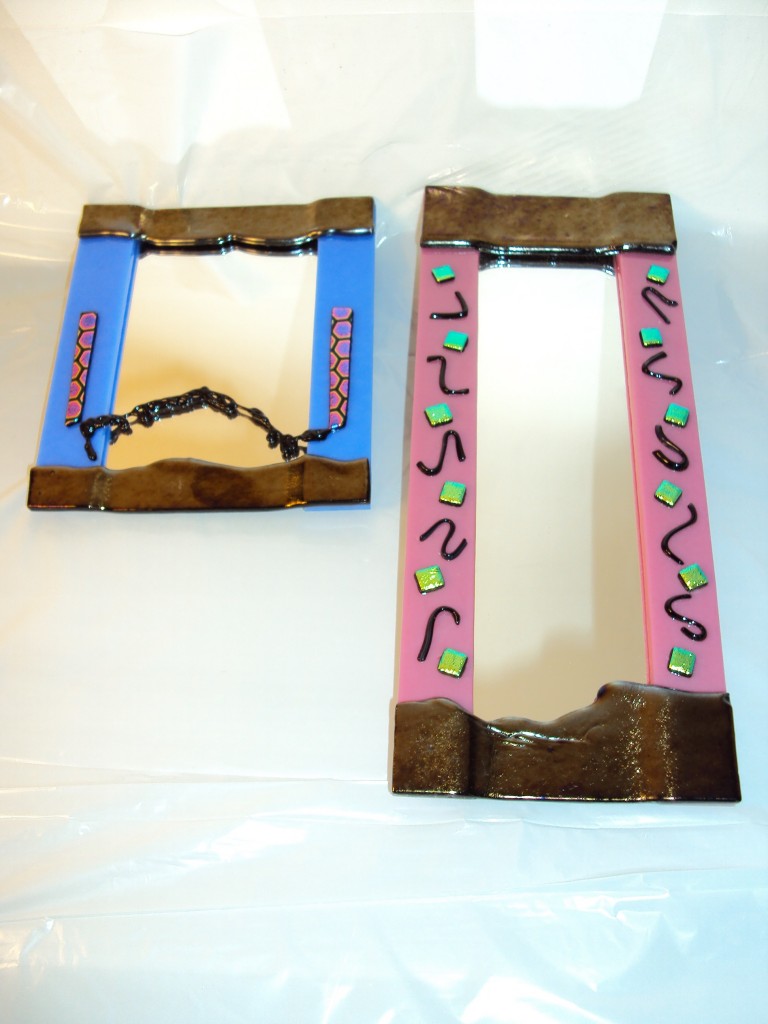 Alberta Blazina – Fused Glass Frame Mirrors
Don't forget that strikingly beautiful wall mirror over your fireplace mantle.   Mirrors over the mantle are a traditional look that many people like because it generally adds light and expands the room.  The mirror's frame should complement the decorating style of the room.
Hanging several small wall mirrors together makes an eye-catching grouping in any room.  Grouping mirrors or pictures together in one area gives importance to small framed artwork or mirrors which would otherwise be lost if they were to be hung by themselves.
You may group several shapes and sizes together, or you may choose to have the framed pieces all uniform in size and frame color.
When using handmade or custom mirrors in your home decorating, remember that they are always a necessity for all bathrooms and powder rooms!
All of us take pleasure in contributing to our surroundings and we feel most the comfortable with our valued memories around us.  Mirrors not only reflection on our sense of style or our individuality but add serenity and light to our surroundings.
Using the artwork found in the Mountain Made art gallery you can choose from a varied array of styles to blend in with your decor and your personality. Not to mentioned you can even have a custom piece created just for your home – so your choices of wall mirrors can be truly unlimited!
=====
Live out-of-town? Or just to busy to drop by our store? The staff at Mountain Made can help – use our Gift Shopping Service to make your gift buying both simple and quick.