Vegetarian Health Recipes – Vegetarian Medicines – by Clarence Meyer
|
Comments Off

on Vegetarian Health Recipes – Vegetarian Medicines – by Clarence Meyer
–
Heal Yourself Using a Vegetarian Diet and Recipes
Fruits and vegetables have been used for generations for their therapeutic properties in both domestic and professional practice. Many cures have been claimed from the proper use of such common foods as apples, grapes, onions, garlic, carrots, beans, and cabbage.
Vegetarian Medicines by Clarence Meyer (the son of Joseph E. Meyer) contains a variety of recipes traditionally used for coughs, indigestion, wounds, or skin troubles, and for more serious conditions such as obesity, intestinal disorders, liver and gall bladder complaints, insomnia, and nervousness.
All of the plants discussed in Vegetarian Medicines have specific healing properties, which help maintain the health of the body or prevent sickness.
–
Check out this short video book review…
Clarence Meyer (1903-1997), the son of Joseph Ernest Meyer, studied at the Chicago Art Institute, then moved to Germany to pursue his career as a portrait painter.

Returning home, he worked with his father at Indiana Botanic Gardens, writing and illustrating books for publication, contributing a lifetime to western botanical gardening and literature.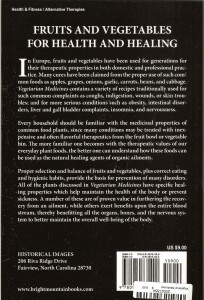 –