Tis the Season For Southern Crafts!
|
Comments Off

on Tis the Season For Southern Crafts!
UNIQUE GIFT IDEAS direct from the heart of the Smoky Mountains. Your Best Guide to the Top 12 Handcrafted Gifts for the Holidays – All from Local WNC Artisans, Musicians and Writers!
Mountain Made is pleased to announce our 2011 handcrafted holiday gift list.
Melinda Knies,  gallery manager said, "We had such a wonderful response from last year's gift guide that we decided to do it again this season!"
She went on to say, "This year's gift guide only showcases 12 wonderful items to celebrate the holiday season. We thought we would add our own spin on the traditional 12 days of Christmas song, we all are so familiar with."
"So we have worked hard to highlight a handcrafted version of this holiday favorite."
Ms. Knies, said, "This year's exceptional list of gift ideas presents some of most popular art and craft items we offer as well as other unusual artwork unique to the Asheville area."
"This list is a must-see for those people who enjoy or collect American-made crafts and Southern folk art. All the artwork in our gallery has been made locally here in Western North Carolina by some the region's finest artisans, musicians and authors.", she said.
Shopping in the Asheville Area? Drop by and check out Mountain Made's "12 Days of Gifts Handmade for the Holidays!". Holiday gift giving has never been so easy!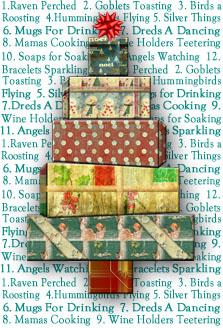 Click the Tree to See Handcrafted Gifts for the Holidays!
"And like last year, we are offering secure shipping to anywhere in the US. This way our customers can send their loved ones these handcrafted gifts safely while creating a new holiday tradition!"
But Ms. Knies goes on, "Unfortunately some of the artwork we have on our list are in limited qualities or are custom made by the individual artisan and as such are one-of-a-kind. This means once we sell out, we won't have any more for this season…"
"Because of this, we strongly recommend that if you are interested in a particular gift item that you contact us as soon as possible. You learn more about our gift list HERE or browse our new online mountain music and bookstore.
"Of course, if you are too busy to shop or live out of the Asheville area, you can take advantage of our FREE personal shopping service!" Ms. Knies said.
Knies concluded, "Our is always happy to help you choose the right gifts that will make your the holiday shopping, a fast and fun experience instead of a stressful chore! Just call us at 828.350.0307 if you need help."
<iframe width="560″ height="315″ src="https://www.youtube.com/embed/WLWdjV49aAI?rel=0″ frameborder="0″ allowfullscreen></iframe>