UPDATE: Mountain Made Gallery's Anniversary – 10 Years & Counting
|
Comments Off

on UPDATE: Mountain Made Gallery's Anniversary – 10 Years & Counting
Mountain Made is proud to share in celebrating Grove Arcade's 10th year anniversary  – a FREE public anniversary party will be held on November 2, from noon to 8 p.m. featuring live music, light refreshments and arcade-wide sales.
UPDATE: Check out our video of our anniversary party.
Mountain Made gallery along with the other Arcade merchants will be hosting several special events and sales….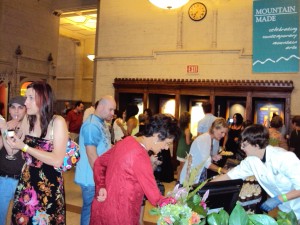 Built by E.W. Grove, the visionary and creator of the Grove Park Inn, the Grove Arcade opened in 1929 and thrived until World War II as one of the country's leading public markets.
After spending many decades in the hands of a Federal agency, the Grove Arcade reopened to the public in 2002, after an extensive restoration of this beloved downtown landmark.
And Melinda Knies of Mountain Made was one of first businesses to sign up and move in!
Back then Mountain Made was a subsidiary Mountain BizWorks, (a local non-profit) but today, this 10th year anniversary also marks the first full year of the gallery has been owned and operated by Melinda, as a her own business!
So this will be a double anniversary bash for us!
The video produced by the Grove Arcade, highlights the locally-owned shops, galleries and restaurants that has made the Arcade a special place for locals and visitors.
Great Musical  Performances are scheduled:
1 to 2 p.m.  – The Overflow Jug Band
3 to 4:30 p.m. – South Forty
6 to 8 p.m. – Motown Blue
Glassblowing demonstrations by well-known Asheville Glass artist Jason Probstein, will be held at Mountain Made and we are giving out a free gift with every purchase!
Other November 2 Specials and Sales at the Arcade:
Andriana – 50% off selected items
Asheville NC Home Crafts – Free tote bag with $75 purchase
Bath Junkie – Salt scrub and body dessert for $45, normally $53 value
Enter the Earth – 50% off select items
The Eye Center – celebrating its 6th Anniversary – check our their specials
Fresh Quarter – Local apple tasting
Make Up at the Grove Arcade – Select items buy one get one free
Mission at the Grove – 10% off all merchandise
Niche – sale on select merchandise
Nutz about Fudge – Buy one pound and get one half pound free
Thai Basil – 10% off entire menu
Tic n Time – half price floor clocks from noon to 6 p.m.
Vaquera – 20% off select merchandise
And much more…. We invite you to come by the Grove Arcade and take part in this great anniversary party > Directions to the Arcade.
<iframe title="10 Year Party" width=640 height=360 frameborder=0 src=http://web.photodex.com/embed/ggwcg28></iframe>