The Art of Papermaking with Asheville Artist Pam Granger Gale
|
Comments Off

on The Art of Papermaking with Asheville Artist Pam Granger Gale
Paper – one human-kinds' most fragile creations is oddly enough one of our oldest inventions. Paper as old as the 2 century B.C. has been found in China with legible markings on it. The ancient Chinese paper makers used hemp based papers for the same things as we do today – for writing, wrapping, padding and packaging.
And according to Asheville artist Pam Gale, during her live demonstration on Saturday, September 13th, the process to creating handmade papers has not basically changed much since then.
The Art of Papermaking with Asheville Artist Pam Granger Gale
Basically, various fibers from plants or cloth are separated then soaked and suspended in water. Then resulting soupy, mashed potato like substance is drained through a screen, so that a mat of randomly interwoven fibers are laid down.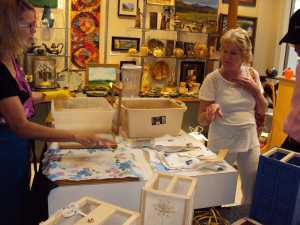 The water is slowly removed from the mat of fibers by pressing and drying to form the paper.
Pam then takes her handmade papers and creates note and gift cards that are simply charming, and wonderfully unique.