Wearable Art: Sondra Dorn – Working withTextiles & Color
|
Comments Off

on Wearable Art: Sondra Dorn – Working withTextiles & Color
Sondra Dorn – Textile Artist
Sondra Dorn is a professional artist living and working here in Asheville, NC.  She primarily makes art pieces for the wall but several of her smaller items (under 3″) may also be worn as decorative pins or brooches for belts, scarves or coverings.
Dorn says, "I create my work by bringing together my love of textiles and traditional techniques with my fascination in new technologies. The images are derived from actual objects scanned into the computer, manipulated and enhanced. This is then digitally printed with dyes on 100% linen fabric. I then embellish my piece with hand embroidery, free motion machine embroidery and appliqué of hand dyed linen."
"I love the twining of disparate images and approaches, some rooted in the craft tradition of textiles and others based on contemporary technologies. Instead of seeing these objects, images, colors and processes as completely unlike, I wonder and seek their sameness in how they speak to me and to each other.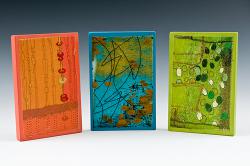 I love unlikely combinations that won't immediately yield answers and answers that change unexpectedly. How an object or an idea can look and seem one way and when the viewer's perspective changes, even just a bit, the appearance can become completely different.
Lastly but by no means least, I love the sheer pleasure of making, of accomplishing the hundreds of small tasks that together complete a piece, willingly giving each step its own required time, care, patience and focus.
Each of my past pieces informs the next, technically and conceptually, telling the same story over and over. Even little changed this story is renewed and transformed into something entirely different. Each new making is a process of searching, seeking and finding some solutions, but usually even more questions."