Terrell Garren Book Signing – Updated
|
Comments Off

on Terrell Garren Book Signing – Updated
The Mountain Made gallery was proud to hosting a book signing for Terrell Garren's new book Measured In Blood: The Role of Henderson County NC in the American Civil War.  Garren will be on hand to answer questions and sign books.
Measured In Blood is a 599 page, hardback edition that features a new and unprecedented "sacrifice point system" for measuring Civil War losses by individual soldiers and units.  Soldiers are awarded points in ten different categories such as being killed in action vs. being wounded. Records and points are separated between Confederate and Union men.
One chapter includes an evaluation of the long standing "Unionism Myth" in Henderson County which Garren wrote,"[readers] may be surprised to learn that Western North Carolina citizens of that day were as much or more dedicated to the Confederate cause than the people of any other area in the entire South."
Contrary to beliefs bred in the late 1860s, ingrained in families, and perpetuated in contemporary histories, Unionism was practically non-existent in the mountains by the summer of 1861.

It wasn't until the fall of 1863, he reveals, that locals enlisted in the Union Army, usually as deserters from the Confederate Army; and it wasn't until after Appomattox that families claimed Unionist ties in order to get government benefits.

"Not a single man from Henderson County joined the Union Army during the first two and a half years of the war," Garren states in his new volume, "Measured in Blood: The Role of Henderson County, North Carolina in the American Civil War".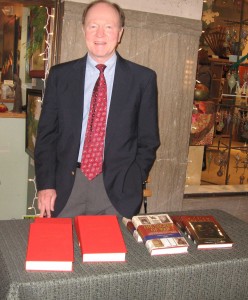 Also included is a description of the Military units from Henderson County showing locations and dates. Another chapter is dedicated to the slavery issue in the County.  A group of short stories examines previous claims included in past works on the topic. The final chapter examines contemporary treatment of the Civil War topic and how it is distorted.
We invite you to come by the Mountain Made art gallery and pick up a signed copy of Terrell's new book and discover more about the history of the Civil War and it's impact here in Western North Carolina.