Spooky Handcrafted Halloween Artwork
|
Comments Off

on Spooky Handcrafted Halloween Artwork
Here at Mountain Made we are celebrating one of our favorite holidays with what we consider to be a spook-tacular holiday sale.
We are offering a wonderful group of ceramic witches created by Mary Phoenix, a  well known ceramic artist who lives here in Asheville.
Handcrafted so no two are alike this wonderful trio of "weird sisters" are hand built from clay then lovely hand-painted and decorated with finger molded details that include hair, clothes and delightful crone-like faces.
These fantastic pieces are suited for both sheltered outdoor or indoor use. Our set of 3 witches with their authentic handmade style will make a super-looking display appropriate for any autumn event or party setting.
Since these iconic figures represent that famous line from Shakespeare's Macbeth, "Double, double toil and trouble," we have also ordered some appropriately sized cauldrons for each piece!
–

But wait; in honor of Halloween, if you purchase all 3 witches you will receive a handmade companion cauldron (a $25 value) for FREE.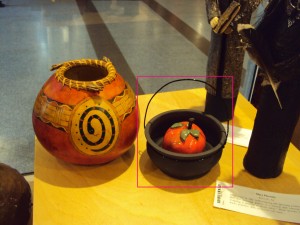 We also have several pieces of our gourd art pieces by such local artists Susan Davis and Cindy Vanderwart which would also make great festive showpieces.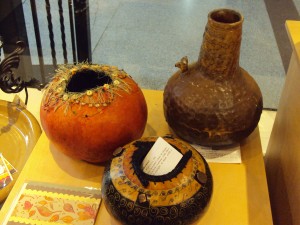 And last but not least we still have one of Charlie Brown's famous Devil Face Jugs.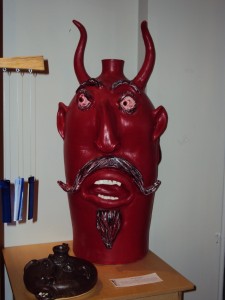 Call us at 828.350.0307 , click contact us by email or come by the Mountain Made gallery today to learn more about these great looking pieces for yourself.