Robert Henry – Western NC Patriot by Asheville Writer Richard Russell
|
Comments Off

on Robert Henry – Western NC Patriot by Asheville Writer Richard Russell
18th century Forest Gump?
About Robert Henry – a story from TheReadonWNC.Ning.com:
"Robert Henry led one of the most eventful lives that could be imagined.  His great-great granddaughter Elizabeth Henry Laisy, has said that he was 'the Forrest Gump of Revolutionary times.'"

He was born in a rail pen (for cattle), family lore relates, in present-day Lincoln County, not far from Kings Mountain, where, at age 15, he was one of the South Fork boys who helped defeat Major Patrick Ferguson at the decisive Revolutionary War battle, Oct. 7, 1780.

He received a bayonet through his hand and thigh while shooting the man who attacked him, according to his own account."
Robert Henry is a character more suited for fiction than nonfiction. Yet while Henry is one of western North Carolina's most accomplished ancestors, he is also one of the most eccentric.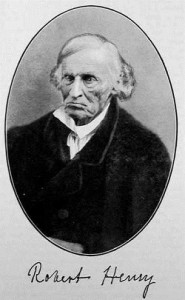 He preferred to dress in moccasins and traveled with a walking stick nearly as tall as he. Some said he had the gift of foresight and was able to predict his own death.
Join author Richard Russell as he navigates the unusual, contradictory and fascinating life of Robert Henry.