Porcelain Dishware – the Return of Julie & Tyrone Larson
|
Comments Off

on Porcelain Dishware – the Return of Julie & Tyrone Larson
The Larsons have not had their work on display here at the Mountain Made for the past couple of seasons and we are happy to welcome them back with this fantastic line of porcelain dishware.
Tyrone and Julie Larson have been practicing pottery artist since 1966. While Tyrone does most of the wheel work, Julie's specialty is glazing, painting, and designing new pieces. The life of their clay artwork has evolved through their years together.
Their most recent work refers back to Julie's Italian heritage. She has created a blend of techniques using a very old European style of painting directly on the raw base glaze with a heavy application of colored glazes.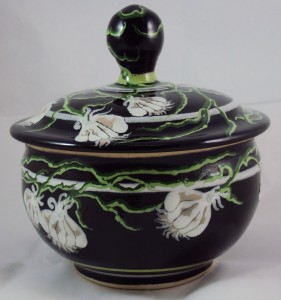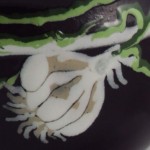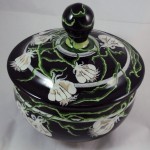 The layers of glaze fuse during a single high temperature firing, which causes the glazed layers to have a raised effect.
As you can see their porcelain dishware embodies a sense of refinement while their special glazing techniques enhances their pieces brilliance colors.