Pochoir Paintings by Asheville Artist Rick Hills
|
Comments Off

on Pochoir Paintings by Asheville Artist Rick Hills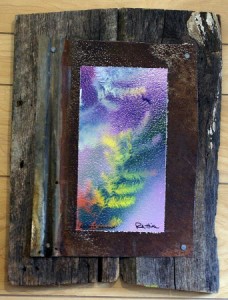 What are Pochoir Paintings?
Pochoir painting (po-shwah) is stencil-based printing or art technique has been in use for centuries.
"And while the word 'stencil' often conjures an image of bold outlines and singular colors, it is from an old French word meaning 'to sparkle' – quite a different image."
"Dating from the fifteenth century, pochoir became highly favored in France for creating the brilliant and exuberant prints of the art nouveau and art deco periods."
As you can see, Rick Hills  his own unique spin on this vintage art form…


Rick uses plants, leaves and other natural materials as stencils, airbrushing over them, allowing the under painting to become his subject.
Rick also uses found objects such as tree planks, recovered barn wood, and metal siding or roofing to form the bases for his art. Rick says, "I am driven to experiment with color and I'm often surprised and thrilled with the results."
Come and experience a live art demonstration and Q&A session by this master painter & mixed media artist.  Rick will share his innovative porchoir painting techniques and his unique perspectives art on Saturday from 11 – 4 pm.
After speaking with Rick and watching him work, you can then browse the gallery to view his completed works! Where: Mountain Made Art Gallery > Directions to the gallery