Paper Bead Jewelry by Asheville Artist Madeline Parker
|
Comments Off

on Paper Bead Jewelry by Asheville Artist Madeline Parker
"Even a broken heart doesn't warrant a waste of good paper." ― Dodie Smith,
No one really knows when the first piece of paper was rolled and subsequently turned into a colorful art known as paper bead jewelry.
However, in the Victorian era, wallpapers became the focal design element in almost every home in England.  This was in part due to the induction of machine printing and the repeal of the infamous "Wallpaper" tax.
Yes, a wallpaper tax.
The wallpaper tax had effectively limited wallpapers for everyone but the very wealthy in England for over 124 years.
So it has been suggested that it was this new found freedom that lead to Britain's giddy obsession with wallpapers – from traditional English to French and designs from the Far East to huge panoramic floor to ceiling panels during this time.
And so it is thought that it was this huge surplus of scrap wallpaper material that turned "paper bead" making into a popular hobby.
In fact, in a 1917 edition of the woman's magazine, The Modern Pricilla stated,
"Beads are very popular this year and no doubt many of you have heard of the new kind made of paper.  They are easy to make and are very attractive when carefully rolled. These beads are prettiest when made of figured wall-paper of several colors, but you can also use magazine covers and colored advertisement and fashion pictures if you cannot procure wall-paper."
But it was later in the 20th century that women around the world – as far away as Uganda to  here in Asheville started creating paper beads.
We're not sure when Madeline Parker first started creating her paper bead jewelry for sale, but we do know that she does it better than any other artist that we know.
Madeline takes a variety of colorful recycled papers and cuts them into precise strips, which she then delicately rolls by hand into a single bead. She dips each bead into a non-toxic varnish for durability and a bit of shine.
She then uses her wonderful collection of paper beads to create her popular earrings – that come in a whimsical array of different shapes, sizes and colors.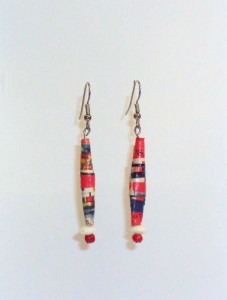 Madeline will be giving a live demonstration of her art, this Saturday from 11-4PM. We invite you to come by the gallery and watch her create some of her eco-chic and fashionable paper bead earrings.
Directions to the > Mountain Made Art Gallery.