New Novel "Crossing to Tadoussac" Explores Canada's Quebec Separatist Movement
|
Comments Off

on New Novel "Crossing to Tadoussac" Explores Canada's Quebec Separatist Movement
Mountain Made gallery will host a reading and signing of Frederick E. Bryson's latest novel, "Crossing to Tadoussac" on Friday June 3rd. Refreshments will be served to visitors, from 5 until 8 pm.
The book is a coming-of-age story of a woman who grows up in the time of the October Crisis of the 1970s when Quebec nearly separated from the Canadian federation and became independent.
From Wikipedia…"The October Crisis (French: La crise d'octobre) was a series of events triggered by two kidnappings of government officials by members of the Front de libération du Québec (FLQ) during October 1970 in the province of Quebec, mainly in the Montreal metropolitan area…"
"…The circumstances (the deaths of government officials and the bombing of financial institutions, including the Montreal Stock Exchange)  ultimately culminated in the only peacetime use of the War Measures Act (martial law) in Canada's history."
Although the book is set in Canada, Bryson brings a Southerner's perspective to the tale. In the process of researching the book, he traveled to Quebec frequently.
Frederick E. Bryson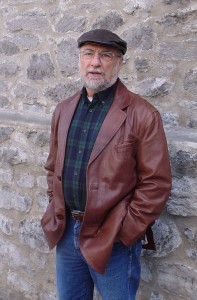 Once, when reentering the US, a customs guard asked why a fellow from North Carolina was interested in the Quebec Separatist Movement. His reply: "What Southerner isn't interested in secession?"
"Crossing to Tadoussac" has been reviewed nationally and locally (The Laurel of Asheville), and was nominated for the QWF award (Quebec Writers' Federation) in Montreal. It's Bryson's third novel.
Check out these video of one Bryson's book readings in Canada … CLICK HERE!
For a map and driving directions … CLICK HERE.