Makeup Mirrors & Beaded Earrings – Whimsical Art by Asheville's Sally Timmel-Gammons
|
Comments Off

on Makeup Mirrors & Beaded Earrings – Whimsical Art by Asheville's Sally Timmel-Gammons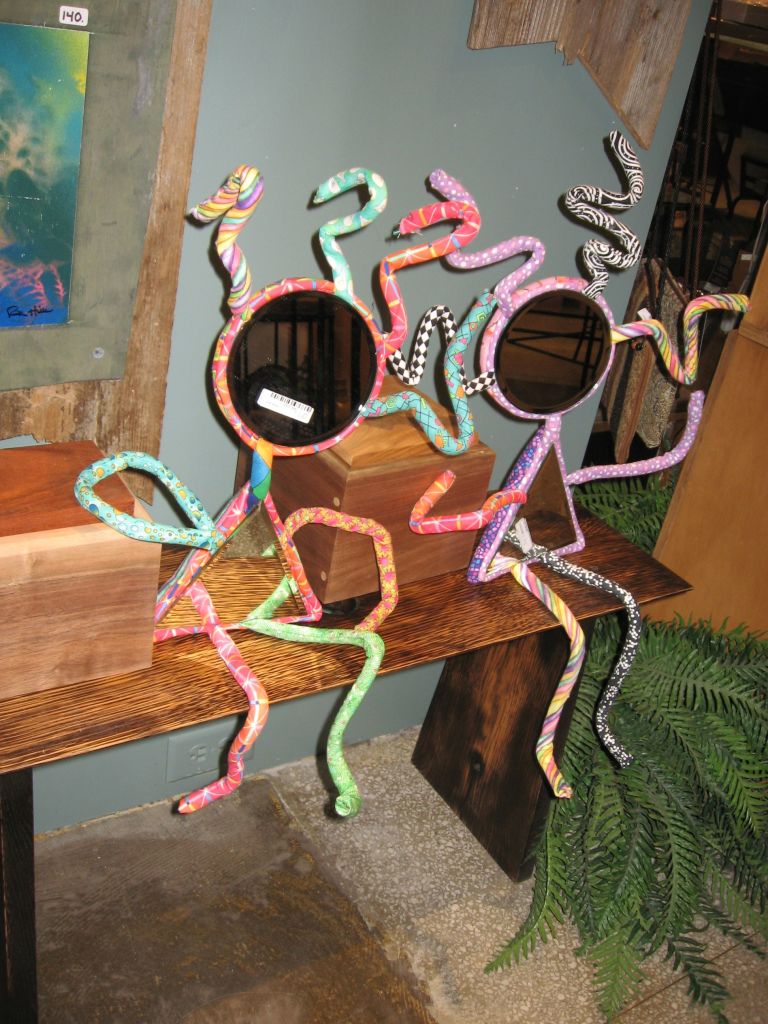 "From there to here, and here to there, funny things are everywhere." ~ Dr. Seuss
Asheville artisan Sally Timmel-Gammons is know at Mountain Made for her humorous and eye-catching 'Dred Mirrors and her wonderfully sunny Dancin' Dred earrings.
Ms. Timmel-Gammons says, "The 3 elements of art that have consumed my interest from the very beginning of my interests has always been: line, shape and color. Combine these with a sense of humor and along with a whimsical approach to design."
This sense of humor can be easily seen here in some of 'Dred Mirrors on display at the gallery.
Sally goes says that her love of color and shapes were influenced by several artists such Peter Max, who is well-known for using powerful bursts of color in his artwork and artist Robert Delaunay. Delaunay was known for the use of strong colors and geometric shapes.
She also says she liked the later works of Joan Miro, a Spanish painter, sculptor, and ceramicist.
As a former instructor with degrees in elementary and art education, Sally left teaching early to care for her own growing family.  Yet it was her desire to maintain her teaching license that lead to her taking several classes in fiber art and upholstery at Haywood Community College (near Asheville).
It was these courses that eventually lead to her career in art.  Sally says,
"I met a large group of artisans, who have become life-long friends and who are production craftsmen.
My friends also enabled me to flex my creativity while "trading" for work between us. It was during this time that I became involved in collaborative work with White Woven studio and artist Linda Mink Timmel.
This was an exciting time in life. We created lots of pieces of specialty furniture that was great to 'visit with' – if you happened to be browsing an art gallery and wandering about a craft show – but few customers were brave enough to want to live with them full time!"
Can Makeup Mirrors be Whimsical?
This was when Sally saw the need to develop a lower priced home accessory item that was repeatable but still maintained a one-of-a-kind style and flair. And so she started her 'Dred Works Mirrors around 1995.
These delightfully "figure-shaped" makeup and hand mirrors are totally adjustable and can be manipulated to stand, sit, lean or hang in any position you need them to while adding a charming and colorful touch to any bedroom, dressing room or bath.
Beaded Earrings that Dance?
About 10 years later while she was enjoying an addictive love affair with dancing, she came upon the idea of creating crafts based on dance and movement. And so her popular line of earrings Dancin' Dreds were 'born'.
Just about everyone has something different and wonderful to say about Sally's little dancin' people. Her multicolored dancin' earrings make wonderful gifts for just about anyone from sunny seniors to giggling pre-teens.
Here in the gallery we have watched people spend an hour or more looking at every pair in stock, to find the ones they liked the best. Sally is not surprise because, "While I hand craft each of my earrings during a single setting, I don't think I have ever made two exactly alike!"
About her philosophy on her art, Sally says, "As I age life and my art goals seem to become more simplified. I want to keep on creating something – anything. It's not the product, it's the process of creation that enriches you."
We invite you come by and browse Sally's work – while we still have them available > Visit Mountain Made, a Downtown Asheville art gallery.