Live Sgraffito Demo by Asheville Artist Kim Anderson
MOUNTAIN MADE will be hosting a live demonstration of the art of "Sgraffito" with Illustrator Kimberly Powell Anderson.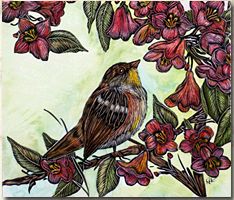 Sgraffito is a very old art form which has been used throughout Europe since classical times.  According to Wiktionary it is, "A technique in ceramics, art and wall design, where the top layer of pigment or slip is scratched through to reveal an underlying layer". 
Traditionally this painstaking art form has been done primarily on ceramics or as murals on plaster walls. But Kim has perfected a wonderful way to "scratch" her illustrations on boards so that her art can be hung.
A native of Western North Carolina, Kimberly says about her art, "I am self taught, and I have been drawing since I was 3 years old. I am foremost an illustrator – which lends itself well for a variety of art…
…I work in many different mediums, and enjoy learning new materials. I enjoy working in pen, ink & watercolor, Sgrafitto on board, block printing, and silk painting. I love botanical illustrations and I am inspired by the nature and wildlife we have in our area."
Check out this video below of some of Kimberly's art…