Last Chance for YOU…
To submit your contribution to our Year 2020 Project
As you might have already know by now that here at Mountain Made (directions), we have been hosting a very ambitious public art project called the YEAR 2020. This is a two prong interactive project where have invited YOU, the public to paint and/or write out your thoughts, feelings and insights you have about this past year.
The first prong – our Graffiti Painting(s) have been extremely popular. We thought we would only have a couple of canvases but folks like you have created XX paintings.
The one on display this weekend of American Craft Week (Sunday 11, 2020) will be the LAST ONE. So if you have not come down yet, we invite to come by, contribute and let your voice be heard.
And we still have space for you to submit your thoughts in writing – as an essay, poem, haiku or a personal wish.
We will compile and publish your work in our Year 2020 book the rest of this month and have it available for sale before November 1, 2020. (All sales donated to local food bank.)
….
A Shout-Out to Quilter, Bonnie Lucas for American Craft Week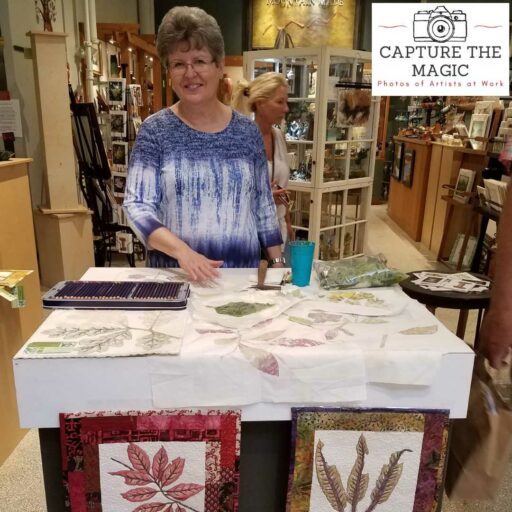 FROM FACEBOOK… "AMERICAN CRAFT WEEK CONTEST FINALIST – (Submitted by Chancer Reese of Mountain Made an Asheville Art Gallery) This is Bonnie Lucas doing a live demonstration of her plant or leaf pounding. She picks out fresh plants (flowers and leaves) and then colors/dyes her cloth by literally pounding the actual plant sap into the material using a small hammer."
We got the word last week that Bonnie was one of the lucky artist whose work was recognized as being one of the finalist for American Craft Week's "Capture the Magic" contest. Congratulations Bonnie!
Click images below to see some of Bonnie's work up close…