Judaica by Asheville Glass Artist Jason Probstein
|
Comments Off

on Judaica by Asheville Glass Artist Jason Probstein
Glassblowing by Jason Probstein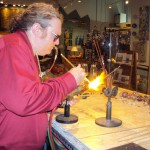 As you might know if you have ever watched Jason work, how easy and fun he makes glassblowing look. His live glassblowing demonstrations are always entertaining and educational.
Yet Jason has a more serious side that is readily displayed in his glass Judaica pieces.  Jason has created a limited but a truly stunning collection of Kiddush cups, Mezuzah cases, Shabbat (Sabbath) candlesticks and Hanukkah Menorah (a nine-branched candlestick).
Beautifully handcrafted, these wonderful Judaica pieces come in both traditional and modern designs and would make wonderful gifts for family and friends during Hanukkah – December 8-16, 2012.

Kiddush cups
Kiddush literally, "sanctification".  A Kiddush is a blessing recited over a cup wine or grape juice to sanctify the Shabbat (Sabbath) along with other Jewish holidays, festivals and life events like weddings, etc.
[Click image to enlarge]
Over the millennia, countless cup styles have emerged or been developed and to this day Jewish artists and artisans strive to create unique and ever more beautiful designs.
We like to think that Jason's glassblowing techniques have produced some of the very best! Each Kiddush Cup is made with care and precision from hand tinted Pyrex glass for durability.
Mezuzah Cases
A Mezuzah (Hebrew for "doorpost") is a piece of parchment inscribed with specified Hebrew verses from the Torah.
A Mezuzah case (a decorative case containing these verses) is affixed to the doorframe in Jewish homes to fulfill the mitzvah commandment to inscribe the words of the Shema "on the doorposts of your house".
[Click image to enlarge]
Each Mezuzah case is made from hand tinted colors that are both vivid and harmonious with almost any home design. They were designed as a mixture of both old traditions and new styling.
Shabbat Candlesticks
The word Shabbat literally means a 'ceasing' or stopping.  The Shabbat or seventh day work ceases for the purpose of rest.
Used to bring a sparkle of light and joy to the Shabbat table, no Jewish home is complete without at least one pair or Shabbat candlesticks.
These exceptional hand-blown candlesticks will make an amazing centerpiece during any Shabbat and a great gift.
[Click image to enlarge]
Hanukkah Menorah
Possibly the well known piece of Judaica, the Hanukkah menorah has since time immemorial has been one of the main decorative centerpieces of a Jewish home as well as one of the most popular outlets for the creative energies of Jewish artists and artisans.
The Hanukkah Menorah (lamp) is a nine-branched candelabra lit during the eight-day holiday of Hanukkah. The ninth holder, called the shamash ("helper" or "servant"), is for a candle used to light all other candles and/or to be used as an extra light. Hanukkah is also known as the Festival of Lights.
And as such the glass Hanukkah Menorahs created by Jason are vividly stunning  yet are an unpretentious display of his family traditions and Jewish heritage.
[Click image to enlarge]
We have limited collection of Jason's glass Judaica work available in the gallery. So we invite you drop by and view them in person – Store.
But if you can't, please don't hesitate to contact us if you have a question, comment or wish to order some his work.
Happy Hanukkah!