He's Back! Asheville Glass Blower Jason Probstein At Mountain Made For the Holidays
Handcrafted Glass Christmas Ornaments
& Holiday Tree Toppers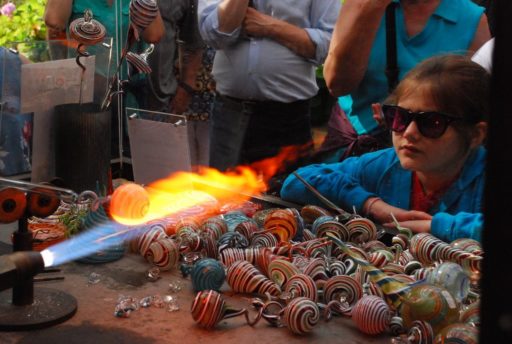 A Wonderful Family Tradition
Here at Mountain Made, we are proud that since 2010 master scientific glass blower, Jason Probstein has been presenting live glassblowing demonstrations here at our art gallery.
And once again we are proud to announce that Jason will be blowing his unique Christmas ornaments here at Mountain Made from December 3 to December 20, 2021 … Or until his gas tanks run dry!
Jason will be demonstrating from 10:30 AM – 4:00 PM on these 3 days: Fridays, Saturdays & Mondays.
Master Glass blower creates Christmas ornaments at Mountain Made
Mountain Made is proud to have had Jason display his craft during the holiday season. We invite you to come by the gallery and watch Jason at work.
….
About Jason Probstein
Jason Probstein is a trained scientific glass blower. He uses professional-grade Corning Pyrex glass tubing – that have been custom colored – to create his wonderful artwork.
He uses a 3000+ degree torch to heat and shape his glass art into strong and very durable pieces like his wonderful Christmas tree ornaments and goblets.
Jason received his degree in scientific glass blowing from the Salem Community College and has studied Venetian glass techniques at the Penland School of Crafts.
Jason as a nationally known glass blower has had his glass ornaments and other collectibles displayed in various art galleries and museum gift shops the throughout the Untied States (such as the Smithsonian).
His lightweight, yet durable Christmas ornaments are unique in both their shape, colors and patterns. It is this attention to detail that makes Jason's work stand out among other glass artists.
….
>> Click on an image below for a close-up view of Jason at work <<
….