Inside WNC Arts & Crafts – September 2014
|
Comments Off

on Inside WNC Arts & Crafts – September 2014
It's Time to Say Goodbye to Summer!
We encourage you to come by Mountain Made as our local artists gear up for Fall. We have a ton, of new works by several new artists and from our most popular, bestselling craftspeople.
Below are just some of the special events and gallery news items that are upcoming in September.
Mountain Made's Interactive Art Walk Project
"Life is a blank canvas, and you need to throw all the paint on it you can."  ~Danny Kaye
The month of September continues our interactive art project during the Downtown Art Walk on September 5th from 5PM to 8PM.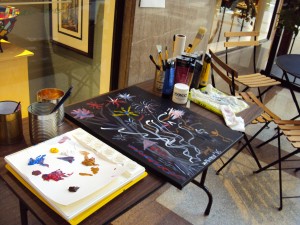 The painting project is open to the public – basically anyone who happens to stray by our lures of colorful pots and paintbrushes!
The theme for this month's painting is "Star Light, Star Bright".  Come by Friday evening (6-8PM) to smear, dapple and paint your version of "Twinkle, Twinkle Star". Remember no talent is required – just dip, paint and go!
While the Moon is technically not a twinkling a star – it does shine very bright on Tuesday, September 9th.
This full moon is called the Full Corn Moon by some Native Americans tribes because their corn was harvested around this time of year.
However, it is better known as the Harvest Moon, immortalized in the 1908's pop tune, "Shine on Harvest Moon".
This particular full moon got its nickname because in September, moonrise comes in the early evenings and shines brighter, longer – which actually does help farming crews to bring in the fall crops!
While we won't be open late on Tuesday for the Harvest Moon, we do invite you to come by the gallery Friday evening during our "harvest hours" from 6-8PM to paint, have a bit of fun browsing the latest works from our artists and snik-snaking on some light refreshments.
Directions to the > Mountain Made  Art Walk Project
…
Join MOUNTAIN MADE as We Present Another Great Month of Live Art Demos by Our Local Asheville Artists
Asheville Metalwork Artist, Jim Begthol – Hand Twisted Wire Bonsai Trees
Each of Jim's trees takes over 1000 individual wires to create.  He uses a variety of materials from bare copper, stainless steel, black iron to artistic wire, and reclaimed vintage bronze and copper wire.
Jim has "planted" his trees in bases of native North Carolina granite, from local marble and river rocks to exotic petrified wood and fossil dinosaur bone!
Jim will in the gallery on Sept 6 hand twisting a tree for his demo.
…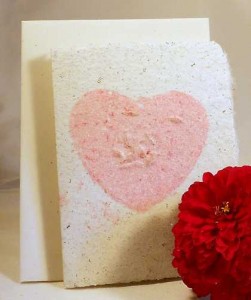 Asheville Paper Artist, Pam Gale – Handmade Paper Note cards, and Keepsakes
Pam creates her handmade paper artwork using the 300+ year old Chinese tradition of beating fibers to make her paper sheets.  Each sheet of paper is totally original and can't be reproduced using a machine manufacturing process.
Pam will be in the gallery displaying her paper-making skills on Sept 13.
…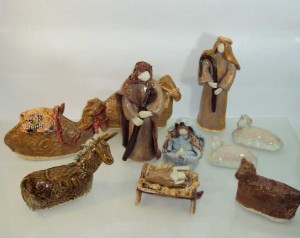 Asheville Ceramic Artist, Sondra Hastings – Nativity Scenes & Meditation Plates
Sondra said that her meditation plates were inspired by old world labyrinths and new age mediation walking trails.
But starting last Christmas, Sondra began to bring small nativity scenes.  A  nativity scene is the "special exhibition, particularly during the Christmas season, of art objects representing the scene of the birth of Jesus".
She began with the traditional manager scene (Mary, Joseph and baby Jesus) but now she includes a the three wise men, shepherds, sheep and a whole barn full of animals.
Melinda has created a wonderful display inside the store. We invite you to come see it and talk to Sondra as she displays her ceramic molding skills on Sept 20.
…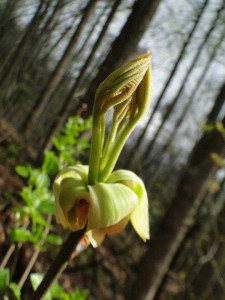 Asheville Writer Sue Wasserman – Wildflower Photographer & Book Author
Sue is the author of the popular book 'Walk with Me'.   She says that her greatest joy comes from combing her seasoned writing skills with her recently discovered passion for nature photography. Sue likes to say, "Nature has hired me as its PR representative!"
Sue will be giving a mini-slideshow based on her nature photography on September 27.
…

American Craft Week October 3 – 12, 2014
This year Mountain Made will showcase the final pieces our interactive art project as part of our American Craft Week celebration.
We will let you know more about our schedule of live artist demos and any other special events for Craft Week in a email, later sometime this month!
But here is a link to the other Special Events in Western North Carolina Celebrating American Craft Week
…
If you have liked hearing about our mountain made arts, and crafts then we invite you to come by the gallery to see all the other unique and handcrafted artwork we have to offer.
Do You Like Our Mountain Arts & Crafts But You're Too Busy to Shop Or You Live Too Far Away?
We like to think that we here at Mountain Made make gift buying both easy and a true pleasure!  If you can't drop in to see us and have an idea for a purchase or a question – please don't hesitate to call us at 828.350.0307 or email us at staff@mtnmade.com.