Handmade Ceramic Tiles
|
Comments Off

on Handmade Ceramic Tiles
Handmade ceramic tiles make both a striking decorative and valuable addition in your home Ceramic tiles are a remarkably versatile building or remodeling material in the hands of a master artisan.
Handcrafted tiles can used in just about every part of your home – from kitchens, baths, pools or gardens. Indoors they can be used to accent fireplaces, mantles, doorways or arches.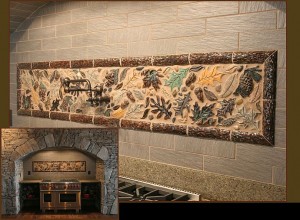 In the bath or kitchen, they form beautiful yet easy to maintain backsplashes and decorative focal points. Outdoors they can be used as pool or hot tub surrounds and as striking accents for decks, patios and other outdoor living spaces.
Click to learn more about handmade tile artist Tamara Matthews or feel free to contact Melinda Knies concerning any custom artwork or building or remodeling requirements you might have for your home or office or place of business.