Handcrafted Halloween Decorations – Halloween Decorating with a Mountain Made Touch
|
Comments Off

on Handcrafted Halloween Decorations – Halloween Decorating with a Mountain Made Touch
Halloween is one the best holidays! Think about it for a moment… this former pagan ritual turned family-fun extravaganza with its trick or treating, pumpkin patch strolls and corm mazes.
Halloween is one of the few celebrations that don't require that you or your host exchange expensive gifts!
Halloween is all about having fun with your family and friends.
And one the most cherished traditional for many folks is the costume party! Tons of plastic and rubbery Halloween decorations are sold every year just for purpose.
But this year, you can stand out from the crowd and embellish your home with special handcrafted Halloween themed artwork from our Mountain Made artists!
Of course, as lovers of handmade art, we have always embraced American made crafts as home décor items but we know and understand that for Halloween many families have an eclectic mix of homemade projects as well as store-bought decorations.
So why not decorate your house for with handmade "Halloween" artwork that will be a joy to own and display year around?
For example…
How about some of Mike Cowan's little "metal monsters" and "critters"? These fun and creepy little guys would be a fitting piece on any Halloween buffet as well as pulling double duty as tabletop or flower pot accessories.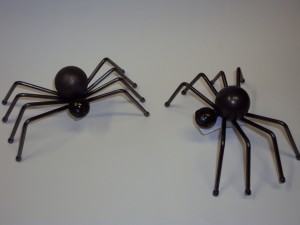 Or how about Mountain Made artist Diane Hansen's colorful autumn cards? Diane's hand printed card collection would make wonderful invitations, gift cards, holiday greeters or thank you cards – for any situation your creativity can imagine.
And instead of the mess and bother or craved pumpkins, why not a carved gourd art piece by Susan Davis? Each of Susie's works is unique and sure to be a conversation starter as a side table décor item.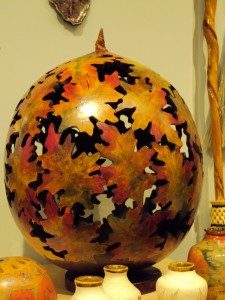 Or for more contemporary look how about Cindy Vanderwart's gourd work as end table item as well?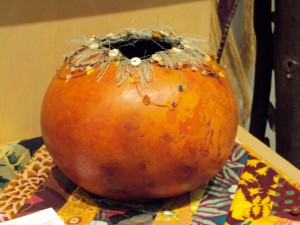 And who could resist some ceramic pears or an apple or two from Jean Saake's autumn "harvest" with ladybugs, bruises, "bites" and all?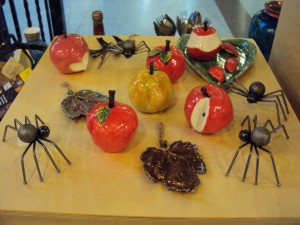 And for your centerpiece, who would forget your trio of witches from Mary Phoenix? This nationally recognized artist is well known for her tribal-like or primitive figures.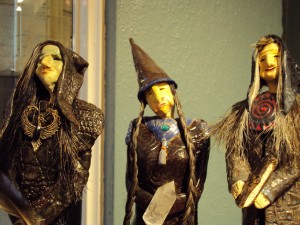 Or for a complete show stopper, which of your guests wouldn't envy you're a Devil's Face Jug by 8th generation potter Charlie Brown?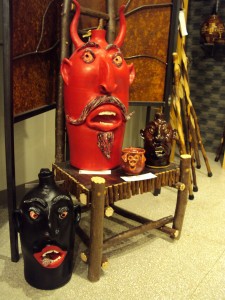 A face jug is a recreation of a 300 year religious tradition first used by slaves to ward away evil sprits. The idea was the uglier the face the better and powerful the jug.
Drop by our gallery since new art pieces are coming in daily. Or contact us about our FREE shopping service if you are crazy busy or live out of town. Local or national shipping available for all items.