Art Walk – Friday April 5th at Mountain Made Art Gallery
|
Comments Off

on Art Walk – Friday April 5th at Mountain Made Art Gallery
Get Out of the House & Come Join Us for a Night of New Art, Ramped up Foods Plus Live Music!
Enjoy the work from our local artisans at Mountain Made during the Downtown Art Walk on Friday evening April 5th from 5 pm to 8pm. Over the last 3 weeks our gallery has gotten a wave of popular, new artwork in well as never-seen pieces from from new artists!
Free Ramp Recipe Cards at Art Walk
We will also be serving samples of such popular ramp flake recipes as "Ramp Sour Cream Dip", "Ramped Party Mix" and much more. Free recipe cards will be available from 5:00PM to 8:00PM.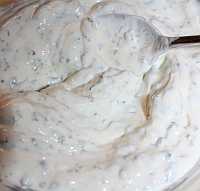 If you live near the Asheville area, we invite you come by browse our new artwork and have a sample taste or two (or three – who's counting!) while listening the wonderful music of MotownBlues.
MotownBlues – one of the most popular dance bands in downtown -will be performing a free concert for the Grove Arcade during Art Walk from 6 to 8 p.m. The playlist includes classic Motown, rock and of course blues.
Click to find directions to > Mountain Made Art Gallery.
OR try something new this year and ride the trolley provided by the Downtown Art District. Download the Trolley Map Here > Mountain Made is Stop Number 18!
If you live out of town and can't make it to the Art Walk and are curious about in the Free Ramp Recipes just check out this site > Free Ramp Recipes – for info on how to make Ramp dips, dressings and more !