For Locals Only – NC Licesne Plates for the ARTS
|
Comments Off

on For Locals Only – NC Licesne Plates for the ARTS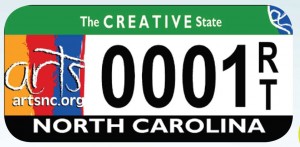 short note from Ruth Summers, Executive Director for the Grove Arcade…
"Attention Art lovers!  This October ARTS North Carolina your state-wide advocacy organization will be working hard in Buncombe County and beyond to encourage sales of North Carolina, The CREATIVE State – ARTS license plate.
Your plate purchase benefits the work of ARTSNC, our statewide organization uniting North Carolinians for the arts."
So if you live within the borders of NC, we encourage you to show your support for our "Creative State" by using one of these colorful specialty license plates now available through ARTS North Carolina.
The $30 specialty fee (added to the standard annual $33 car or private truck registration fee) will contribute $20 to ARTS North Carolina to promote the arts and $10 to the state for its wildflower program, tourism and welcome center accessibility.
Click the link to learn more and show your support for our local Western North Carolina artisans > http://www.artsnc.org/support/license-plate/ArtsNC_Bookmark_proof