Coffee Table Decor – 3 Ideas for Styling a Coffee Table with Art
|
Comments Off

on Coffee Table Decor – 3 Ideas for Styling a Coffee Table with Art
Coffee Table Decor Tips
Oh, my Gosh! They're coming over! 
"They" can be your ultra-picky in-laws or relatives, the boss you need to impress or that special someone who you want to wow with your awesomeness.
No matter whom "they" happen to be, your coffee table is a red-hot mess and you need to know how to make it look nice – fast. This article can help you with this common home decorating problem.
Recently, Southern Living magazine published an article  by Phoebe Howard, on coffee table decor aptly titled, "How to I style my coffee table?"
The modern "coffee table" is a fairly long and low table that was originally designed during the Victorian era to be placed in front of a sofa to hold beverages for guests while visiting (hence the name).
Now of course, it holds everything from books, magazines, laptops, iPods, newspapers, car keys, cats, kids, snacks, work papers and of course the treasured TV remote.
And whose living room coffee table couldn't stand a bit of a makeover, once in a while? For most of us, the coffee table is inarguably the center of attention in our living rooms.
So once Melinda Knies, Mountain Made's owner saw the article, she wondered if we couldn't duplicate something similar using pieces of artwork from the gallery.
So one semi-quiet afternoon, we moved one of Ronno Cooke's great looking wood coffee tables to the main floor and Melinda tszujed it using several the gallery's handcrafted art pieces.
Decorating Note: And yes "tszuj" is a real word (we looked it up) – pronounced "zhuj", it comes from the fashion industry where it means to make something look better, generally by tweaking, primping or styling.
How To Decorate A Coffee Table In 4 Easy Steps
In the Southern Living article, Ms. Howard recommended that you should use 4 focal points to make the most of any home's coffee table.
By using the following design elements, you apply the quick and easy method for dressing up your coffee table using handcrafted art.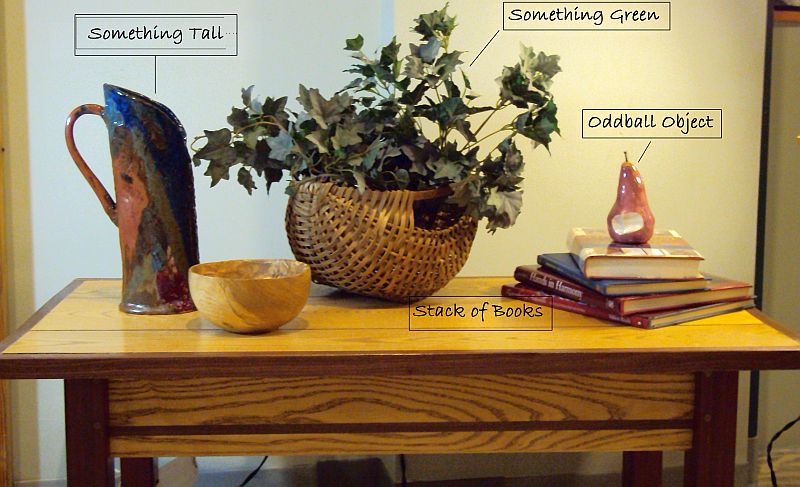 Step One – Add Something Tall
Step Two – Add an Oddball or Whimsical Object
Step Three – Add Something Fresh (Green)
Step Four – Add a Stack of Books
Below are 3 completely different looks or styles using the same coffee table but varying up the artwork.
Contemporary Mountain Art
In this coffee table style, Melinda used a modern hand-built pitcher vase by Kim Ross as the "tall object" and a wonderful turned wooden bowl to collect any loose items like keys, etc.
Since she didn't have access to any "fresh flowers", she used some faux ivy as "greenery" in a hand woven basket by Judy Bryson Quinn. Our stack of books is collection of non-fiction written by some of our local authors and our oddball object is a  "bitten ceramic pear".
Modern American Craftsman
In this style Melinda used a more traditional style of Americana "art and craft". Here blues are emphasized to represent both a more conservative  and professional setting.
This type of decor is great for a more formal gathering with business associates at home, inside a professional office or any other environment where you need a more  subtle or business-like  approach.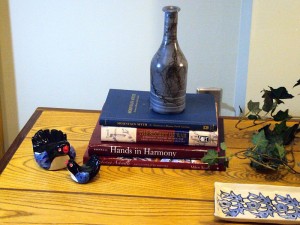 Dinner for Two and a Movie
This coffee table style is for a completely informal gathering of two or more friends for a light dinner and a night of watching DVD's.
Notice while the setting is completely functional a an impromptu food table, it can be used to show off some of your more interesting art pieces before the show begins.
Home Decorating from Mountain Made Gallery 
Interested in seeing more? Drop by our gallery and take a look at some the artwork displayed in this tutorial.