Cherokee Cookbook Signing – Native American Cooking with Johnnie Sue Myers
|
Comments Off

on Cherokee Cookbook Signing – Native American Cooking with Johnnie Sue Myers
Nationally recognized Cherokee cookbook author and Native American food expert, Johnnie Sue Myers will at the Mountain Made art gallery signing her new book "The Gathering Place". Saturday October 23th, 1PM – 3PM
Cherokee cooking is an often overlooked local cuisine that few people get an opportunity to taste or learn about. Many of the old recipes and traditional ways of preparing the various wild foods have been slowing dying.
That was until Johnnie Sue Myers.
Johnnie Sue Myers is a Cherokee Elder who has a passion for preserving and protecting her Native American culinary heritage. As a result of this desire, she has recently published her first cookbook: "The Gathering Place: Traditional Cherokee Dishes & Southern Appalachian Cooking.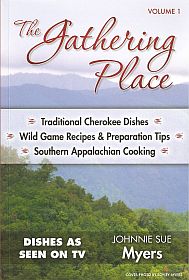 "The Gather Place" showcases many traditional Cherokee dishes as well as wild game recipes with preparation tips, plus some wonderful Southern Appalachian cooking recipes.
=======
Featured Recipe from her website CherokeeCooking.com:
VENISON CUBE STEAK WITH GRAVY
5 cubed steaks
1 tablespoon salt
1 cup of flour
1 teaspoon black pepper
2 tablespoons of seasoning salt
3 tablespoons 100% vegetable shortening*
5 oz. can of evaporated milk
3 to 4 cups cold water

Preparing the meat
Remove the cubed venison from the original packaging and place into a freezer bag; place bag in refrigerator overnight or for at least eight hours so the meat can bleed out. This is an excellent way to thaw and bleed out at the same time. Removing excess blood does not change the flavor or remove any of the nutrients.

In a shallow dish place flour, seasoning salt, salt and pepper. Mix well. Roll cubed steak in the flour mixture.

Place into a hot fry pan on medium heat setting (cast iron skillet works best) with vegetable shortening. The skillet needs to be hot but not smoking.

Cook steaks until crispy and brown on both sides. Remove the pan from the heat source and place the steaks into a large bowl or baking dish.

Gravy
In the fry pan where you fried the steak, add an additional tablespoon of vegetable shortening, return the pan to the heat with setting on medium high.

When the shortening is hot, put 3 to 4 heaping tablespoons of flour (from the shallow pan you rolled the steak in), into the fry pan stirring constantly (This should resemble thick paste.) Brown.

When you have reached the color you prefer, stir in the cold water, 2 cups at a time; whisk this in so the gravy is not lumpy.

Add 5 ounces of evaporated milk stirring constantly. Add salt and pepper to taste and add remaining water if needed; the gravy should be smooth and creamy and not very thick.

Bring to a low boil and let cook for 2 to 3 minutes stirring occasionally. When ready pour gently over the steaks and serve.

May be served with or without the gravy.

*TIP
Venison cubed steak cooked in 100% vegetable shortening makes a better gravy than that cooked in extra virgin olive oil. If you choose not to prepare the gravy cook with olive oil.