Ceramic Meditation Plates and Thinking Like Einstein
|
Comments Off

on Ceramic Meditation Plates and Thinking Like Einstein
"It's not that I'm so smart, it's just that I stay with problems longer."
~ Albert Einstein
It has been said that Einstein's gift wasn't that he was a genius in as much as it was his ability to train and sustain his focus for long periods of time on a single question or problem.
Even the great man once said about himself, "I think and think for months and years. Ninety-nine times, the conclusion is false. The hundredth time I am right."
Einstein's way of thinking has also been called "analytic meditation."  As near as we can determine, Analytical meditation is just a way to focus all your present mind on a specific concept, idea or problem — reflecting on everything you currently know or understand about it.
So what in the world has Einstein have to do with one of Sondra Hasting's ceramic meditation plates?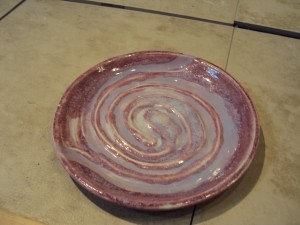 Well we have noticed that when people trace one of Sondra's plates with their fingers they have a variety of different experiences. Some people who were seconds before frowning, instantly break out with a smile. This is what you would expect from meditation right?
But we also noticed that others would get a deep, thoughtful look on their face. This was a mystery until we took a couple of the meditation plates home.
This is when we discovered the "thoughtful" or the Einstein meditation method described above.
While we attempt, we're pretty certain our IQs haven't pegged out at the top of Mensa charts yet, we have experienced some interesting side-effects after concentrating on some troublesome problems while using our meditation plates.
Will you end up thinking like Einstein?
We don't know but we do know that all kinds of people — from business professionals to hurried moms to kindergarten teachers to and people trying to lower their blood pressure have "test driven"  several meditation plate and end up taking one home!
We invite you come and test out a plate for yourself.