Bring or Mail Us Your "Leaves" for Our Glorious Fall Art Project!
|
Comments Off

on Bring or Mail Us Your "Leaves" for Our Glorious Fall Art Project!
Come Join Our Interactive Art Party – October Art Walk
Date: Friday, October 3. 2014 – 5:00 PM – 8:00 PM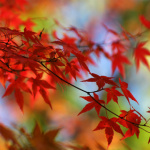 As you might have heard by now Mountain Made has been hosting a series of interactive art projects all summer long.
And to kick off our celebration of American Craft Week (Oct 3- 12, 2014), we will be doing our "No Talent Required" Interactive Art Walk Project a bit differently this final month.
In honor of the autumn season, the theme for the October Art Walk Project will be "Glorious Fall."  So to keep up with our autumn leaf-loving theme, we invite you to bring or send us your leaves for our project!
Yes, We Want Your Fall Leaves from Any Place Near Your Your Home or Office!

Asheville's Fall Colors Means Collages!
Yes, we need your leaves… we will be creating a "Glorious Fall" collage composed from various tree, shrub and plant leaves found around your home or yard. Just grab a handful of your best garden foliage and drop on by.
As always our interactive art project will be hosted at the Mountain Made art gallery, from 5:00 PM – 8:00 PM, on Friday October 3rd.
Now don't fret if you can't be here to participate or your "leaf letter" won't be delivered in time for the art walk – we will retro-actively add your best-looking leaf to the collage and place your name on the artist list!
This is great way for smaller kids, school classes and shut-ins to celebrate this magnificent season with us.
Send your leaf-letters to or come by the gallery at:
Mountain Made Art Gallery
Suite 123
Attn: Fall Collage
1 Page Ave
Asheville, NC 28801