Book Signing – 1st Annual Summer Book Signing Extravaganza
|
Comments Off

on Book Signing – 1st Annual Summer Book Signing Extravaganza
1st Annual Summer Book Signing Extravaganza?
Yes, it's quite a mouthful but with over a dozen authors coming this Saturday, August 3rd, 11-4 PM – we just couldn't think of a better name!
In place of our regular artist demonstration, we here at MOUNTAIN MADE are proud to be hosting a multiple-author book signing – hence the extravaganza part.
Check out the list below to see the authors coming to this great book signing event!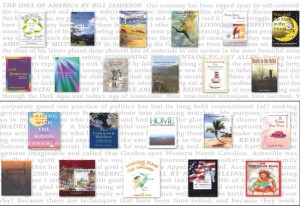 Celia Miles – Sarranda's Heart (Historical novel set in WNC during the early 1800s)
Nancy Dillingham – Americana Rural (Poetry & a Collection of Memories)
Jack Pyle & Taylor Reese – Raising with the Moon (Gardening by the Signs)
Bill Jamieson – The Idea of America (Political History & Philosophy)
Madeleine Kay – Living Serendipitously (Success & The Art of Living)
Georganna Spruce – Awakening to the Dance (Dance and The Art of Living)
Amy "Willow" Allen – Summoning the Mountains (Outdoors & Hiking the Appalachian Trail)
Jerry Pope – The Fire Chief King (A Children's Story)
Dielle Ciesco – The Unknown Mother (The Power of Sounds & Voice)
David Lamoureaux – Recycling Your Past (Coping with a Dysfunctional Past)
Molly Walling – Death in the Delta (family expose on the  the shooting death of two black soldiers returning to Mississippi after World War II)
Deborah Lloyd – Believe and It is True ( A Story of Healing and Life Lessons)
Dr. Milton Ready – Remembering Asheville (An Illustrated History of Asheville NC)
Chris McMillan – Backwards Off the Curb (A Memoir And A Travel Guide To Self-Discovery)
All of these books are available here at the gallery and we invite you to come by this coming Saturday, meet with all our wonderful authors and writers and get them to sign a book for you. A signed book is always great gift idea for that special book lover in your life.
Directions to the 1st Annual Summer Book Signing Extravaganza > Mountain Made Gallery inside the Grove Arcade