Asheville Woodworker Chris Perryman is a Cut Above
|
Comments Off

on Asheville Woodworker Chris Perryman is a Cut Above
Recently, one of our favorite woodworking artists, Chris Perryman was featured in the local WNC Magazine.
"Goldsplinter Studios, Chris Perryman's woodworking shop in Asheville's Kenilworth neighborhood, is an exercise in the maximization of space.
From the vessels and chopping boards that make up his kitchenware line to a desk and stool in mid production, his work and equipment are meticulously organized in the garage beneath his home."
"Perryman, a Winston-Salem native and fourth-generation woodworker, moved to this space five years ago. However, an element of his original studio in town, which housed a coal company in the early 1900s, still makes its mark on his pieces."
"Much of Perryman's work bears three grouped circular cutouts, which are an homage to shotgun blast holes in the back of the old building's freight elevator. "A nod to one of Asheville's mysteries," he says with a smile.
"The refined cutting and serving boards which make up the Scattergun Collection, all include the design signature, while boxes for dry goods are accented with elements such as milk paint and charred lids. The boards, are available at Mountain Made gallery … [the boards] come in multiple sizes, including slender baguette boards.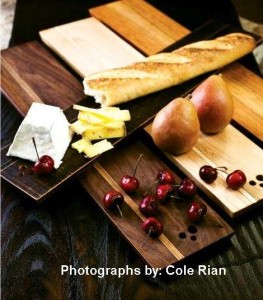 "The versatility of his craft allows him to bounce between creating art, custom furniture, and the more recent foodware, which seemed an organic branching off of his work. "I love food, so this was a natural thing to focus on," Perryman says."
If you like the looks of Chris's Scattergun cutting and serving boards, we invite to come by the store and browse our collection > Directions to Chris Perryman's cutting boards