Asheville Pottery Artist & Teacher – Maud Boleman
|
Comments Off

on Asheville Pottery Artist & Teacher – Maud Boleman
"Try to put thought, time and care into making these useful objects with the hopes
that the users will somehow connect with them beyond their intended purpose." ~ Jennifer Harnetty
Maud Boleman's exposure to the world of art began in her childhood, visiting the museums of New York City, and continued through her studies at Nova Southeastern University, where she earned her degree in Art Education.
Maud Boleman – Asheville Pottery Artist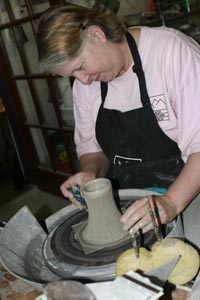 In the last twenty years, Maud has been both a maker of pots and a teacher of makers.  Since moving to the mountains of Western North Carolina she has tried to incorporate the look of the mountains in her work.
Her unique technique and style have developed into a synthesis of the rustic and the refined, with form and function playing an intriguing duet.
We invite you to visit Mountain Made, a downtown Asheville art gallery to see more of Maud's artwork.