Asheville Potter – Kim Ross
|
Comments Off

on Asheville Potter – Kim Ross
Mountain Made's Kim Ross appears here on local television station WLOS-13's "Craft Corner" segment.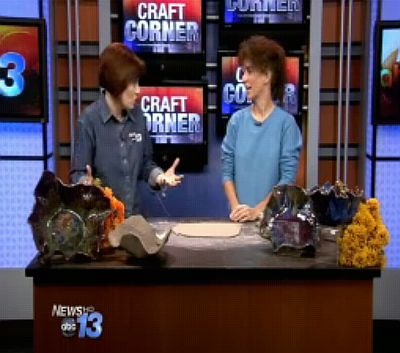 In this segment Kim shares with host a fun way to make your own free-form pottery candy dish. Click below to continue reading…
Free Form Pottery Candy Dish 
by Kim Ross
Supplies
2 Pounds Of Clay
Rolling Pin
1 Can Or Glass Jar
1 Sheet Of Paper
Needle Tool
Stamps, Sea Shells, Bark, etc.
Wet Sponge/Water
Instructions
Roll clay out with slab roller or rolling pin to thickness.  Make sure no air bubbles are in clay.  Using your stamps, sea shells, etc., pressure firmly a pattern into clay.  Turn clay over where design is facing down and place onto can or glass jar that has paper over top of it.  Shape clay the way you want it to look, using newspaper to lift up clay or let clay hang freely.  Cut shapes into clay using needle tool for handles or design pattern.  Once clay is leather hard remove from jar or can and let finish drying completely before firing.
Note
Kim Ross
Touch Of Ross Pottery
www.touchofrosspottery.com
Kim's work is available here at Mountain Made.  Call or come by to browse our collection of her work.