Asheville Painter Susan Strazella
|
Comments Off

on Asheville Painter Susan Strazella
A Belated Shout-Out to Susan Strazella
Susan's works are a wonderful medley of colors – her paintings virtually burst with bright, sunny tones yet remain clean and simple with clear, sharp details. This is due in part to Susan's past career as a long time commercial art director in New York.
According to a story published in the Laurel of Asheville…
She says she began when she was quite young and never stopped. "I always drew, and my parents—my mother was quite artistic—made sure that I had art supplies… By 11, I had my first oil paint set. Also, my mother made sure that my brother and I visited all the museums in New York." [her] career in commercial art, she says, allowed her to earn a living while, at the same time, utilizing her creativity.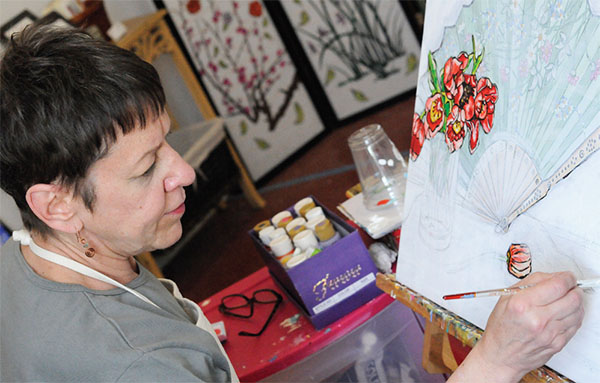 After earning her bachelor of fine arts degree from the Pratt Institute, she worked for a series of companies, on staff for such firms as Vogue, Butterick Patterns, Talon, Macy's of New York, J. Crew, and others.
She also worked for several different advertising agencies, all the while honing her skills in illustration, type design, and logo creation. Over the years, her work appeared in countless catalogs, brochures, and magazines. [The Laurel of Asheville.com]
We are happy to have several of Susan's canvases on exhibit here in the gallery. We invite you to drop by and view her works in person. Click for directions and store hours.  If you like Susan's work but are unable to visit, please feel contact us if you have a question or comment.