Asheville Painter Kim Rody-Kopp's Dual Lives
|
Comments Off

on Asheville Painter Kim Rody-Kopp's Dual Lives
Many people would love to live the way that painter Kim Rody-Kopp does: winters spent  living on a sailboat in the Bahamas while  roaming the mountains of near her family's log cabin during the warm months of summer. Yet it is this "dream" lifestyle is reality for Kim Rody-Kopp and her husband.
According to an article published about Kim in the Laurel of Asheville, her story is one any movie producer would love to hear….
Kim, born and raised in Miami, Florida, had been living in Texas (she refers to it as being "exiled") for 21 years where she built a  highly successful career as an agent for State Farm Insurance. Then came a life-changing epiphany.

"I was at a seminar in Chicago to learn how to sell more insurance," she explains. The participants were to told to visualize themselves several years in the future. "This is what I saw: I was going to be a little 80-year-old lady swimming in the ocean every day, with a beautiful garden, living in a bungalow on the beach … and painting canvases."

That was news to her, she says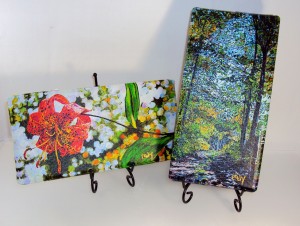 "So I went back to Dallas and started taking a painting class at the community college … Still, she says, her parents nearly had heart attacks when I told them I was going to 'retire' at 40 and become an artist."

A self-described "boatie" her entire life, Kim bought a 31-foot powerboat that she moored in Hope Town harbour in the Bahamas. "That way, I could fly back and forth … to Stuart (Florida) whenever I ran out of clean clothes and had to do laundry. It was like my floating apartment."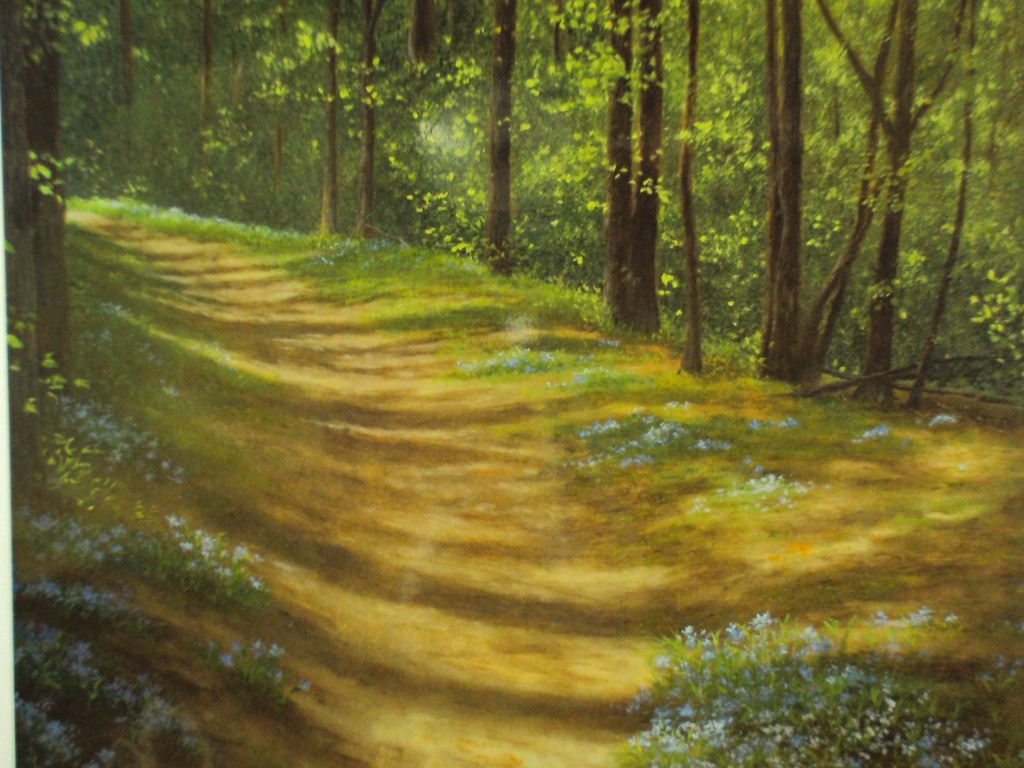 That little trickster fate was about to make an appearance in this seemingly perfect existence. At the next mooring in the harbour was Spirit, a 41-foot Tartan sailboat captained by Mark Kopp, a retired Coast Guard chief. "He made fun of my bigengined, gas-guzzling boat," she says. "He pestered me for four years. I finally caved in and we got secretly married in the little Methodist church in Hope Town. I sold my gas guzzler and moved onto his (our!) 'blow boat.

I spent six summers at Camp Crestridge in Black Mountain during junior and senior high," says Kim. Her parents ended up building a log cabin here that was in their family for about 20 years before being sold. Her parents eventually became ill and so Kim and her new husband would trek north to be with them. It was during one of these visits that Mark found, and bought, the log cabin in Fairview…
And so began Kim's dual life as  WNC painter. While she still paints her uniquely colored painting of life lived on a tropical island, she also creates vivid mountain landscapes showcasing the rich colors of the hills near her log home in Fairview. [Source: The Laurel of Asheville]
We have several works of Kim's available in the gallery. We invite you drop by and view them in person- driving directions. But if you can't, please don't hesitate to contact us if you have a question or comment about her work.