Asheville Native American Cooking Expert Johnnie Sue Myer's Dried Bean Recipe
|
Comments Off

on Asheville Native American Cooking Expert Johnnie Sue Myer's Dried Bean Recipe
Cherokee Indian Elder and Cookbook Author Johnnie Sue Myer offers several great recipes in her new cookbook (2011) "The Gathering Place"
According to Johnnie Sue, "Dried beans have been a staple of the Cherokee and mountain people for a long, long time. Not only are the beans and excellent source of protein but are also quite tasty and quite inexpensive, of course adding pork has its own tradition."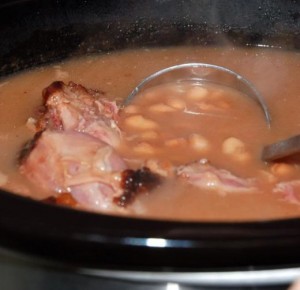 DRIED BEAN SOUP WITH HAM HOCKS
Ingredients:
2 cups of dried Pinto beans
3 quarts of water
2 ham hocks (thick sliced bacon can be used – but not as meaty tasting!)
Salt
Pick and clean 2 cups of pinto beans, rinse well in cold water. Put the beans a medium stock pot with 3 quarts of cold water add about 2 teaspoons of salt and cook on medium high heat.
Bring to a boil. Remove the ham hocks the packaging and rinse well with warm water removing any juices from packaging process.
With a large sharp knife divide the ham hocks. Rinse and put in the pot with the beans.
Ham Hocks may also be added whole. The flavor of the hocks really comes through when they are divided. Cook for three hours at a soft rolling boil until they are soft.
Mrs. Myer's cookbook offers many other great country recipes such as "Pork Neck bones & Ribs with Rice", "Liver and Onions with Gravy" or a wild game specialty of "Venison Meatloaf".
If you find this recipe from the "The Gathering Place" interesting, we have a few copies left. We invite you to contact the gallery, to order your copy if you want one.