Asheville Artist Rick Hills is in the Spotlight
Fine Artist Rick Hills Makes Cover of Rapid River Magazine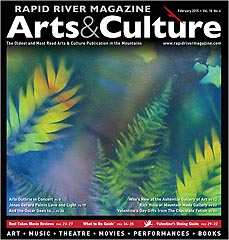 Fine artist Rick Hills is on the cover of this month's Rapid River magazine. Rapid River Arts & Culture Magazine is the largest and oldest arts publication in Western North Carolina. In his interview with Rapid River, he said," "It's getting out and observing the things that are happening around you that matters—the smell of the pines, the crunch of the forest floor beneath your feet, the cloud that appears, seemingly out of nowhere—this is how God speaks to me, through His creation…"
Currently Rick specializes in a wonderfully colorful form of art called "Pochoir" (po-shwah). Rick's pochoir based artwork utilizes leaves and plants as stencils to create bold outlines with strong signature colors.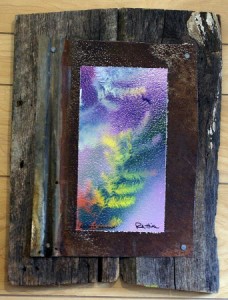 Rick lives in Waynesville and it's his close proximity to Great Smoky Mountains National Park and the Blue Ridge Parkway that fuels and inspires his personal "art" walks. According to his interview is frequently on his walks by his three collies Sugar, Lily, and Toppie.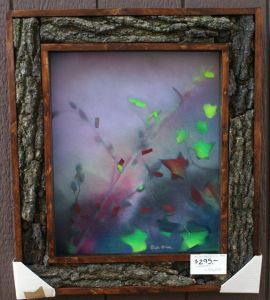 From his interview "His connection to his surroundings deepens as he returns to favorite locales again and again, in every season and at different times of day, coming to know them intimately, as you might come to know a lifelong friend.

It becomes a kind of conversation—one in which he listens to the silence, absorbs its wisdom, and carries it home to his studio to bring life to his paintings."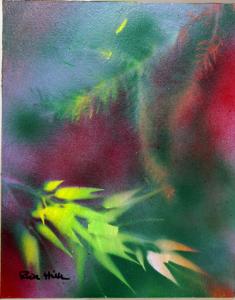 "Hills graduated from the University of Florida with a degree in fine art, then began a 30-year career as a festival artist, combining his love of art with his love of travel. He had the opportunity to explore most of the US and finally settled in the beautiful North Carolina mountains."
Pochoir is also an old French word that means 'to sparkle'… and as you can see Rick's pochoir pieces are truly something unique and different than other painted works.