Are Wire Bonsai Trees Good Luck?
|
Comments Off

on Are Wire Bonsai Trees Good Luck?
According to the ancient Chinese art of Feng Shui , metals like those in Jim Beghtol's wire bonsai trees are coveted for their good luck.
Like the art of bonsai itself, feng shui was developed in China over 3,000 year ago. It's users claim that it is able to "balance the energies of any home or office to assure health and good fortune for the people inhabiting it."
In fact, many Asian businesses have spent billions of dollars on feng shui when constructing or decorating their homes or offices says Jill Lander, a certified feng shui consultant in Hong Kong.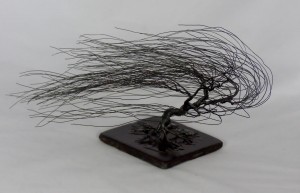 Lander goes on to say, "Look around Hong Kong, and you'll notice most corporate buildings integrate feng shui elements one way or another…"
Well to be truthful we don't know that if a wire bonsai tree from Jim will more attract wealth and prosperity to your home or business space – but who couldn't use a little extra good luck these days? Click below to see more of Jim's work. 
Live Art Demo by Jim > June 15th, 2013