Adult Coloring Books: Why the coloring book craze can be good for you?
|
Comments Off

on Adult Coloring Books: Why the coloring book craze can be good for you?

Adult Coloring Books ?
Let's face it almost all of us loved coloring books when we were kids. Coloring books appealed to both the child who desired structure and guidance as well the rebellious kid who craved "coloring outside the lines"!
But the good news is that the latest coloring book craze may actually be good for you! Adult Coloring Books are the rage of the publishing world!
According to an article in the USA Today
"An accumulation of research shows that…creative activities [like coloring] can help you de-stress from everyday pressures.
Recent studies suggest that structured, rhythmic endeavors such as coloring, knitting, crocheting or quilting are particularly beneficial because they ease you into a meditative state of mind that allows you to push away negative thoughts and worries."
And according to bestselling coloring book author and art therapist Lacy Mucklow,
"These activities engage your hands as well as your mind and your focus. Plus, the repetitive actions release serotonin, the brain transmitter responsible for relaxation."
Well, here at MOUNTAIN MADE we are proud to offer a very unique kind of relaxation and release – now get your mind out of the gutter – in the form the The Great Cosmic Happy-Ass Adult Coloring Book from Asheville artist and humor diva, Diane English.
Diane's limited edition adult coloring books have always been wildly popular since all 49 pages are printed on high quality paper with a spiral binding so that the book lay flat – great for you to color…hmm work on while traveling or just killing time.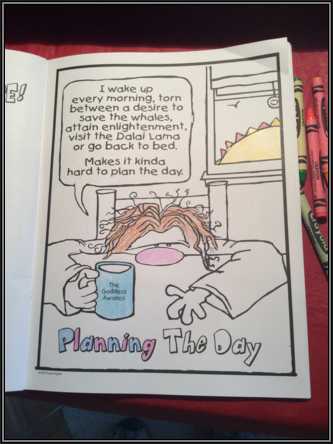 Here's what Diane says about her droll, tongue-in-cheek coloring book for grown-ups, "QUICK! Run like a bunny and get out your crayons, pencils and markers. It's time to color outside the lines and time to giggle, snort, doodle and play!"
We invite you come by MOUNTAIN MADE to check out for yourself this wonderful adult coloring book!